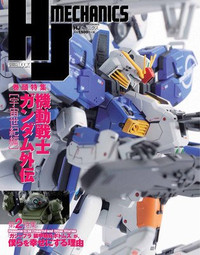 La Hobby Japan ha lanciato una nuova rivista hobbistica intitolata HJ Mechanics, questo venerdì. La rivista è orientata verso gli "adulti che amano i mecha" e contiene articoli e rubriche sui kit dei modelli mecha. Il periodico mostra anche fotografie dei modelli e interviste a modellisti e sviluppatori dei set e anche raccomandazioni sui prodotti.
Il primo numero contiene due sezioni, con la prima dedicata alle storie collaterali di Gundam. La sezione prevede versioni create con kit mischiati ad arte per ottenere l'Ex-S, l'Hazel-Rah e un Tyrant Sword costruito da zero. Questa sezione contiene anche un articolo su Gundam Sentinel, Tyrant Sword e Advance of Zeta, così come uno sui kit basati su queste serie. In aggiunta, la prima sezione, ha un articolo incentrato sui mobile suit nella storia Advance of Zeta.
La seconda sezione è dedicata allo Scopedog mecha di Armored Trooper Votoms e include interviste con il designer dei mecha Kunio Okawara e il produttore Koichi Inoue.
Notizia originale di Rafael Antonio Pineda su AnimeNewsNetwork