Il lancio del gioco è previsto per quest'anno su PS4, Xbox One e PC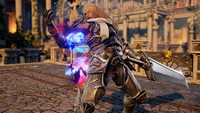 La Bandai Namco Entertainment ha annunciato, venerdì, che Yoshimitsu ritornerà come personaggio giocabile nel picchiaduro Soul Calibur VI. La compagnia ha trasmesso un video introduttivo per il personaggio.
Video in inglese
Video in giapponese
Il gioco sarà venduto per PlayStation 4, Xbox One e PC quest'anno in Giappone, Europa e Nord America. Precedentemente sono stati rivelati Mitsurugi, Sophitia, Grøh, Nightmare, Xianghua, Kilik, Ivy, Zasalamel, Siegfried, Geralt of Rivia di The Witcher e Taki.
La serie ha avuto inizio con Soul Blade nel 1955, su PS1. Il gioco si incentra su personaggi che combattono con armi.
Il precedente capitolo della serie è Soul Calibur V, venduto per PlayStation 3 e Xbox 360, nel 2012.
Notizia originale di Crystalyn Hodgkins su AnimeNewsNetwork