Liden Films-animated original series is set to premiere in July 2018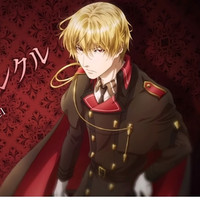 The official website for the upcoming TV anime Phantom in the Twilight has posted a 30-second first character PV to introduce Vlad Garfunkel, the leader of the "Cafe Forbidden" staff, voiced by 43-year-old Takahiro Sakurai (Suzaku Kururugi in Code Geass: Lelouch of the Rebellion, Osomatsu Matsuno in Mr. Osomatsu).
The site describes the character as: "The legendary vampire who has stopped drinking human blood and is in charge of serving teas at the cafe. Since he has lived for extremely long, he becomes a very prideful and lazy character. While he gives responsibility of most of the cafe works to other members, he makes teas by himself because of his fastidiousness."
7月放送に向けキャラクターを紹介
【ヴラッド・ガーファンクル/CV:櫻井孝宏】『カフェ・フォービドゥン』の紅茶担当。長く生き過ぎたため、プライドが高く怠惰な性格。紅茶にはこだわりがあるため自ら淹れる。カフェの中ではリーダー的役割を担っている。 #ファントワ https://t.co/vJXAKiIEF5 pic.twitter.com/pJlCB33G7i

— TVアニメ『Phantom in the Twilight』公式 (@phantowa_anime) 2018年4月21日
---
The concept and story of the TV anime Phantom in the Twilight is created by Beijing-based smartphone
game company Happy Elements as its first original anime series. Liden Films (The Heroic Legend of Arslan)
works on anime production, Kunihiro Mori (Chosoku Henkei Gyrozetter) serves as director.
The story is set in a mysterious cafe in London, "Cafe Forbidden," which opens only at night. The staff
of the cafe are all non-human beings: Vlad Garfunkel (vampire), Luke Bowen (werewolf), and Toryu
(Jiangshi/Chinese zombie). One day, a girl named Bayrou Ton wanders into the cafe. Her great-grandmother
was the first owner of the cafe and also a legendary sorcerer. While solving the trouble Ton is in, various
bonds are formed between her and the handsome staff.
Main Voice Cast:
Bayrou Ton: Kana Hanazawa
Vlad Garfunkel: Takahiro Sakurai
Luke Bowen: Nobuhiko Okamoto
Toryu: Tomokazu Sugita
Wayne King:Daiki Yamashita
オリジナルアニメ「Phantom in the Twilight」(ファントム イン ザ トワイライト)の制作が決定!2018年7月TOKYO MX、BSフジほかにて放送開始!! https://t.co/WojlPtxi5w #ファントワ pic.twitter.com/6KQO2AIFz0

— TVアニメ『Phantom in the Twilight』公式 (@phantowa_anime) 2018年3月25日
1st PV
Source: TV anime "Phantom in the Twilight" official website
©2018 Happy Elements AP