Keitaro Motonaga (Digimon Adventure tri.) serves as director at Seven Arcs Pictures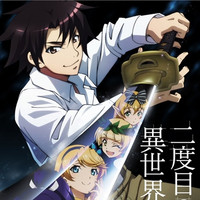 It is officially announced today that a TV anime adaptation of Mine's fantasy light novel series Nidome no Jinsei wo Isekai de/[New Life+] Young Again in Another World is set for October 2018 in Japan. The novel was first published in the user-generated novel publishing website Shousetsuka ni Narou, and has been viewed over 189 million times since January 2014. Then the first volume of its print edition was released from Hobby Japan's HJ Novels imprint in November 2014, and its latest 18th volume is set to be released in Japan this Thursday, May 24.
Main visual
【情報解禁!】
TVアニメ『二度目の人生を異世界で』2018年10月放送開始!
累計1億8900万PV超の大人気小説が、ついにアニメ化決定…!
本Twitterアカウントで最新情報をお届けしていきます!
公式HP:https://t.co/HabIRJ3WEx
公式Twitterアカウントはこちら→@nidomeno_jinsei#二度目の人生 pic.twitter.com/j2XYPeu5AG

— TVアニメ「二度目の人生を異世界で」公式 (@nidomeno_jinsei) 2018年5月22日
Novel illustrator Kabocha celebrates the news with two newly-drawn illustrations
「ぱんぱかぱーん、おめでとーございます!」

TVアニメ化決定記念!
キャラクター原案のかぼちゃ先生(@kabotya4)より、お祝いイラストをいただきました!
素敵な " 創造主(幼女) " のイラスト、ありがとうございます!#二度目の人生 pic.twitter.com/4mp4xvWPev

— TVアニメ「二度目の人生を異世界で」公式 (@nidomeno_jinsei) 2018年5月22日
と!いうわけで、二度目の人生を異世界で アニメ化決定でございますーーー!!うわぁああいやった~~!2018年10月より放映開始ですーー!宜しくおねがいします!!!! #二度目の人生 pic.twitter.com/n108mxso35

— かぼちゃ☭ (@kabotya4) 2018年5月22日
TV anime main staff:
Director: Keitaro Motonaga (Digimon Adventure tri.)
Series Composition: Takamitsu Kouno (Absolute Duo, Onigiri)
Screenplay: Takamitsu Kouno, Touko Machida, Koujiro Nakamura, Chabou Higurashi
Original Character Designer: Kabocha (novel illustrator)
Anime Character Designer: Makoto Takahoko (Fastest Finger First)
Anime Production: Seven Arcs Pictures (Vivid Strike!, Dances with the Dragons)
The first two volumes of its English edition have been released digitally by J-Novel Club. The publisher
introduces the story as below:
When death tapped Renya Kunugi on the shoulder, he smiled and went willingly. After enjoying a nice,
long life of 94 years, he was looking forward to shutting his eyes for the last time. He was, therefore,
understandably upset when he woke up again in an empty space, devoid of memories, with a young
girl in a tunic rambling on and on about how she's God. So, he did what any reasonable person would
have done under those circumstances: he sent the girl flying with a kick to the face. It turned out that
the girl was indeed God, and she was in a pinch. She urgently needed someone to do some interdimensional
Resource smuggling, and Renya fit the bill. His mission: cross the boundary into another world, then
chill for a few decades. God would handle the rest. To sweeten the deal, she offered him an eighteen-year-
old body and a whole laundry list of ludicrously powerful skills, yet he remained hesitant. Then, she mentioned
the food — an exotic world comes with exotic delicacies — and this sealed the deal. The next thing he knew,
he was standing in a foreign land, younger, stronger, and more clueless than ever. Will he survive this world?
And more importantly, will the world survive him?
Novel 1st and 18th volume covers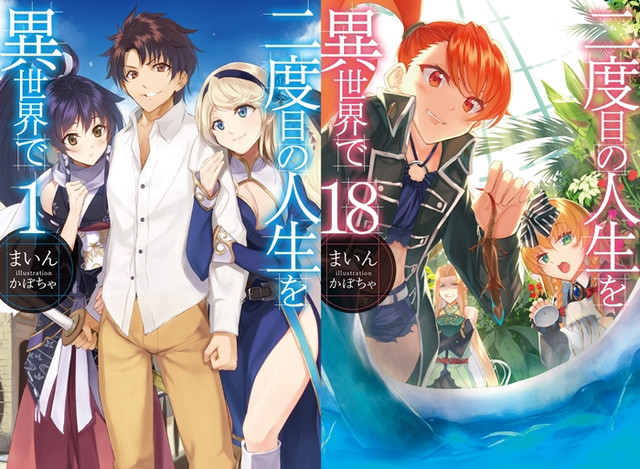 Source: TV anime "[New Life+] Young Again in Another World" official website, Twitter
©Mine, Hobby Japan/"[New Life+] Young Again in Another World" Production Committee