More cast members will be revealed one by one until Saturday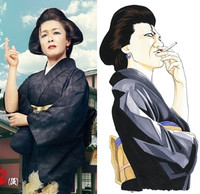 Following Tsuyosi Muro as Hiraga Gengai yesterday, the official website for the upcoming Gintama live-action film sequel announced today that 56-year-old actress Midoriko Kimura is cast as Otose, the owner of the Otose Snack House and the landlord of Gintoki's Yorozuya.
Kimura says, "Since both the original manga and the anime are very popular, I felt so much pressure not to destroy the image of Otose-san that everyone has had. When I started shooting, I was so happy that the director told me, 'It was the best appearance scene ever.' I played some abusing and action scenes, I really enjoyed them because playing this type of role would be the first and last opportunity for me (laugh). Since I already watched the first film, I could not believe that I could enter into the world of Gintoki-san, Shinpachi-san and Kagura-chan. The staff made the perfect costume and hair for my role, so I was able to steadily get into the mood of Otose."
\\キャスト解禁WEEK//

「スナックお登勢」のママであり、銀時( #小栗旬 )が営む〝万事屋銀ちゃん〟に部屋を貸す大家のお登勢役に
#キムラ緑子 さん
#映画銀魂 pic.twitter.com/8jLC3T51Fr

— 映画『銀魂2(仮)』公式 (@gintama_film) 2018年5月22日
このような役は最初で最後になると思いますので、とても楽しかったです(笑)。前作も見ていたので、あの世界の銀時さん、新八さん、神楽ちゃんの世界に自分が入っていくのが信じられなかったです。衣装や髪もそっくりに作ってくださったので、どんどんお登勢な気分になってきました」#映画銀魂 pic.twitter.com/sTVirJ0BKE

— 映画『銀魂2(仮)』公式 (@gintama_film) 2018年5月22日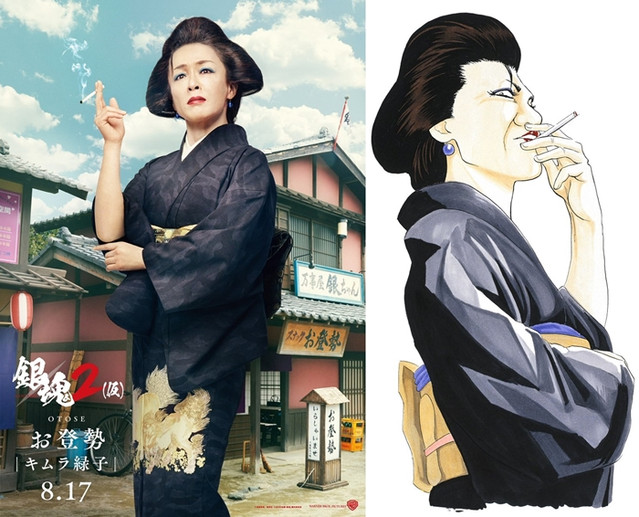 Who's next?
次に解禁されるのは一体誰なのか⁉️

明日もお楽しみに✌️ #映画銀魂 pic.twitter.com/dAOatkeWXd

— 映画『銀魂2(仮)』公式 (@gintama_film) 2018年5月22日
---
The highly-anticipated live-action sequel is set to be released in Japan on August 17, 2018.
< みんなで揃って (ゝω・)ポーズ☆

8.17(金)公開『銀魂2(仮)』に、新八の姉・妙役で長澤まさみさん&桂小太郎役で岡田将生さん+エリザベスの続投出演が決定!さらに万屋メンバーと並んでお妙さん・桂・エリザベスと一緒にかしこm…じゃなくて2(ピース)ポーズをとったビジュアルを解禁!! #映画銀魂 pic.twitter.com/GvTj6LHrWJ

— ワーナー ブラザース ジャパン (@warnerjp) 2018年5月20日
Latest teaser
Source: "Gintama" live-action film website/Twitter
(C)Hideaki Sorachi/Shueisha (C)2017 Movie "Gintama" Production Committee