Hayato Kawai (Kurosaki-kun no Iinari ni Nante Naranai)-directed film hits Japanese theaters December 21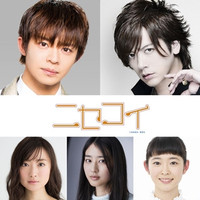 Following the main three for Raku, Chitoge, and Kosaki, the official website for the upcoming live-action film adaptation of Naoshi Komi's love-comedy manga Nisekoi announced its six additional cast members today, including 40-year-old DAIGO (rock band BREAKERZ vocalist, a grandson of the 74th Prime Minister of Japan, Noboru Takeshita) as Chitoge's bodyguard Claude, and 22-year-old Yuta Kishi (boy idol group King & Prince member) as Raku's best friend Shu Maiko. Their visuals in costume will be revealed at later date.
Kento Nakajima, who is cast as the male protagonist Raku Ichijo, is also a member of boy idol group Sexy Zone, and both Sexy Zone and King & Prince are managed by Johnny & Associates.
Newly announced cast:
Claude: DAIGO
Shu Maiko: Yuta Kishi
Marika Tachibana: Haruka Shimazaki (24/ex-AKB48 member)
Kyoko Nippara: Marika Matsumoto (33/Rikku in Final Fantasy X)
Seishiro Tsugumi: Kaede Aono (25/Motoko Kusanagi in Ghost in The Shell ARISE: GHOST is ALIVE)
Ruri Miyamoto: Hana Kawamura (17)
映画「ニセコイ」クロード役はDAIGO、島崎遥香やKing & Princeの岸優太も出演(コメントあり) https://t.co/YB7NxyDP0T pic.twitter.com/zQ5NNehM0k

— コミックナタリー (@comic_natalie) 2018年5月27日
Previously announced:
Raku Ichijo: Kento Nakajima (24/boy idol group Sexy Zone member)
Chitoge Kirisaki: Ayami Nakajo (21/Nino Arisugawa in Anonymous Noise)
Kosaki Onodera: Natsumi Ikema (15/ex-member of dance vocoal unit Lollipop in Okinawa)
---
The live-action film Nisekoi directed by 49-year-old Hayato Kawai (Kurosaki-kun no Iinari ni Nante Naranai)
is set to be released in Japan on December 21, 2018.
2018年12月21日(金)公開の映画『ニセコイ』の公式アカウントです!

これから映画の最新情報などを更新していきますので、よろしくおねがいします!
映画公式サイトはコチラ https://t.co/6iLxsSofHz#ニセコイ #中島健人 #中条あやみ pic.twitter.com/YLkx2axGcT

— 映画『ニセコイ』公式アカウント (@nisekoi_1221) 2018年4月23日
via: Comic Natalie