Gyorai Eizo (Urawa no Usagi-chan) works on anime production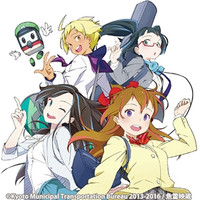 As reported, the crowdfunding for a new short anime featuring the mascot girls of the Kyoto-city Subway was held in March 2016 and collected an amazing 10,422,000 yen in total, which was ten times more than its initial goal of one million yen. Thanks to the huge success, the anime's length was extended from the planned five minutes to 12 minutes.
The anime produced by Gyorai Eizo (Urawa no Usagi-chan) was completed in May 2017 and after several screening events in Kyoto and Tokyo, it has been streamed on Kyoto Municipal Transportation Bureau's official YouTube channel for free since May 29, 2018, the official subway day in Japan.
Since 2013, the bureau has held various promotional campaigns for its subway service, titled "Chikatetsu ni Noru!" (Taking a Subway Train!), using high school girl characters designed by Kyoto-
born illustrator Kamogawa.
【遂にYouTube公開!】京都の地下鉄PRプロジェクト #地下鉄に乗るっ の短編アニメがYouTubeでご覧いただけるようになりました!https://t.co/c0a6vL9Ulo

京都市交通局 公式チャンネルをご覧下さい! pic.twitter.com/uPJbbxw86K

— 魚雷映蔵 つめあと残すアニメ。 (@gyorai_) 2018年5月29日
昨年5月に完成し、同年末には劇場公開も実現した #地下鉄に乗るっ 短編アニメがYouTubeで公開となります。「地下鉄の日」に合わせて、明日(5/29)の夜に京都市交通局のYouTubeチャンネルでお披露目です!お楽しみに!https://t.co/qFp2HYYnJL pic.twitter.com/CH6dSjDRtQ

— 魚雷映蔵 つめあと残すアニメ。 (@gyorai_) 2018年5月28日
---
15-second CM produced in 2014
2015 version
Moe Uzumasa
Saki Matsuga
Misa Ono
Source: Gyorai Eizou
images © Kyoto Municipal Transportation Bureau