Toshiyuki Kubooka (The [email protected] character designer)-directed adaptation will premiere on July 6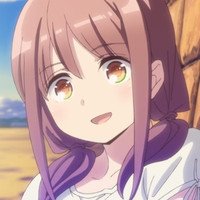 Following the three "pair" visuals, the official website for the upcoming TV anime adaptation of Nyoijizai's beach volleyball-themed manga Harukana Receive starts streaming a two-minute second PV introducing its main character voices and theme song "FLY two BLUE" performed by Kana Yuuki (Haruka Ozora) and Saki Miyashita (Kanata Higa).
The TV anime is directed by Toshiyuki Kubooka, best known as the character designer for The [email protected] franchise, alongside series composition writer Touko Machida (Lucky Star, Wake Up, Girls!) and character designer/chief animation director Takeshi Oda (Oneechan ga Kita). C2C (Aquarion Logos, WorldEnd) works on anime production. It is set to premiere on AT-X, Tokyo MX, and KBS Kyoto on July 6. Prior to the TV premiere, an advance screening event for its first episode will be held at United Cinema Toyosu (Screen 10) in Tokyo on June 30.
2nd PV
Pair visuals:
Haruka Ozora (Kana Yuuki) and Kanata Higa (Saki Miyashita)
公式サイトにてアニメティザービジュアル、スタッフ情報を公開しました。監督に窪岡俊之さんを迎え、アニメーション制作会社・C2Cにて鋭意制作中です。 そのほか詳細は公式サイトをチェックしてください! https://t.co/mjNLpE535j #はるかな pic.twitter.com/mcMCfRiqXE

— TVアニメ「はるかなレシーブ」公式 (@harukana_anime) 2017年11月23日
Claire (Atsumi Tanezaki) and Emily Thomas (Rie Suegara)
【最新ビジュアル公開!】
本日発売のまんがタイムきららフォワードにて
"エクレア"ペアビジュアルを公開しました!

――真剣な女の子は、好きですか?

アニメ本編でも、エクレアペアの活躍をご期待ください!
『はるかなレシーブ』はこの夏、試合開始!#はるかな pic.twitter.com/Zsdn0hVPRT

— 「はるかなレシーブ」公式 (@harukana_anime) 2018年4月24日
Narumi Toui (Miyuri Shimabukuro) and Ayasa Tachibana (Kanae Ito)
【最新ビジュアル公開!】
本日発売のまんがタイムきららフォワードにて"なるあや"ペアビジュアルを公開しました!
7月から放送となる本編で、ぜひ全国1位の実力をチェックしてみてください!#はるかな pic.twitter.com/ZPvs6ftGt9

— TVアニメ「はるかなレシーブ」公式 (@harukana_anime) 2018年5月24日
Key visual
【キービジュアル公開!】

『はるかなレシーブ』2018年夏 試合開始!#はるかな pic.twitter.com/9aR3WWZXgB

— 「はるかなレシーブ」公式 (@harukana_anime) 2018年3月24日
---
The sports manga has been serialized in Houbunsha's Manga Time Kirara Forward since its October 2015
issue, and has released five tankobon volumes in Japan so far. The story follows high school girl Haruka
Ozora who moves from Tokyo to live with her cousin in Okinawa, Kanata Higa. 172 cm-tall Haruka likes
sports but an absolute beginner of beach volleyball. On the other hand, 151 cm-tall Kanata is shy, and
gave up playing the sports in the past because of her short stature. By chance, the two, who have totally
different personalities, form a pair for beach volleyball games.
Tankobon 1st and 5th volume covers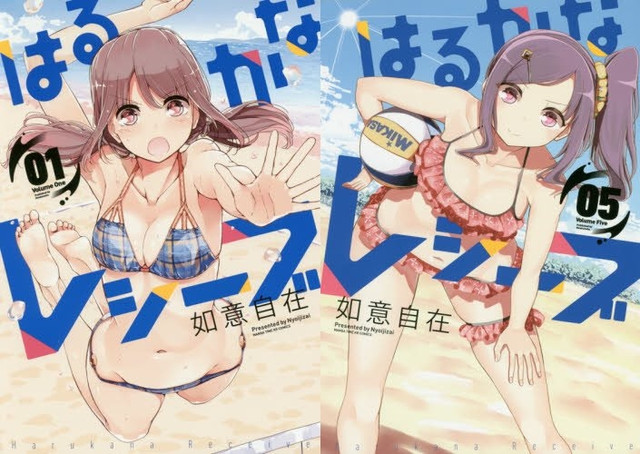 Source: TV anime "Harukana Receive" official website, Twitter
©Nyoijizai, Houbunsha/Harukana Receive Production Committee