La web oficial de la adaptación televisiva del manga Asobi Asobase de Rin Suzukawa ha revelado los que serán los temas musicales principales de la serie. Hina Kino, Rika Nagae y Konomi Kohara se encargarán de interpretar ambos temas como sus respectivos personajes, siendo el opening el tema "Suripisu" y el ending "Inkyainparusu".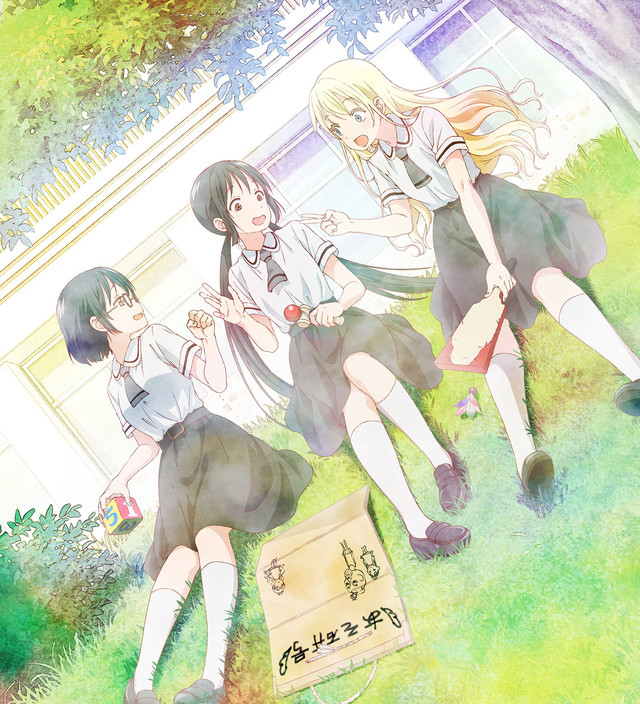 El número 12 del año de la revista Young Animal de Hakusensha revela además que el séptimo tomo recopilatorio del manga original incluirá un DVD animado, aunque no se ha anunciado cuándo llegará este tomo al mercado.
El anime se estrenará el día 8 de julio en AT-X, Tokyo MX, KBS Kyoto y BS11, llegando el 10 de julio a Sun TV y TV Aichi.
El reparto anunciado de la serie es:
Hina Kino como Hanako Honda
Rika Nagae como Olivia
Konomi Kohara como Kasumi Nomura
Ryotaro Okiayu como Maeda
Honoka Inoue como Presidenta del Consejo
Mai Kanazawa como Oka-san
Megumi Toda como Agrippa
Aoi Yuki como Tsugumi Aozora
Ryoko Maekawa como Higuchi-sensei
Yasunori Masutani como Sainan-sensei
Mitsuki Saiga como Takayanagi-sensei
Eishin Fudemura como Kentaro Honda
Maki Izawa como Narrador
Seiji Kishi (Persona 4 The Animation, Tsukigakirei) dirigirá el anime bajo Lerche, siendo Yu Kinome (Gakkou Gurashi, Kuzu no Honkai) el director asistente. Yuuko Kakihara (Persona 4 The Animation, Chihayafuru 2) se encargará de los guiones, mientras que Keiko Kurosawa (Re:␣Hamatora, Kuzu no Honkai, Konohana Kitan) diseñará los personajes. KUSANAGI (Non Non Biyori, Welcome to THE SPACE SHOW, Princess Principal) se encarga de los fondos, Morita Editing Room de la edición y Satoki Iida (Angel Beats!, Persona 4 The Animation, Tsukigakirei) es el director de sonido. Masato Koda (Aoki Hagane no Arpeggio – Ars Nova, Konosuba, Knight's & Magic) compone la música.
La obra cómica mezcla chicas guapas y juegos en varias historias. Kasumi es lista, seria y muy buena en los juegos, pero los odia porque siempre pierde contra su hermana mayor y por ello siempre ha tenido que encargarse de las tareas de la casa. Olivia tiene orígenes americanos, pero se ha criado en Japón y finge no saber hablar japonés. Hanako es una chica alegre y con coletas que por mucho que lo intenta, no consigue ser normal como quiere.
Asobi Asobase se publica desde julio de 2015 en las páginas de la revista Young Animal Densi de Hakusensha, pasando a publicarse en la web Manga Park cuando esta cerró en agosto de 2017. Su cuarto tomo recopilatorio se puso a la venta en agosto del asado año, habiéndose lanzado su quinto el pasado 26 de enero.
Fuente: ANN