The internationally popular manga's first kabuki adaptation will open on August 4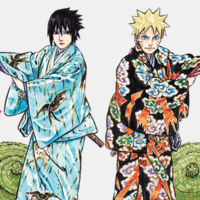 Following the previous one posted last month, Shochiku has started streaming a new 15-second CM for the upcoming kabuki stage play adaptation of Masashi Kishimoto's ninja action manga Naruto, featuring a Naruto and Sasuke illustration newly drawn by the manga author himself. The clip also introduces the play's theme song "Tenjyou no Kanata" (Beyond the Heaven) provided by eight-member Japanese rock band Wagakki Band. The song is included in the band's fifth album "Otonoe" released on April 25, 2018.
The first kabuki play adaptation of the manga, directed by G2 (Musical Bio Hazard ~Voice of Gaia~), is scheduled to be performed at Shinbashi Enbujo in Tokyo from August 4 to 27, 2018, twice in a day at 11:00 and 16:30. Bando Minosuke II (28) is cast as Naruto Uzumaki, alongside Hayato Nakamura (24) as Sasuke Uchiha, Ennosuke Ichikawa IV (42) and Ainosuke Kataoka VI (46) as Madara Uchiha (double cast). General sale of the tickets will start on June 23.
New CM
Previous CM
新作歌舞伎『NARUTO-ナルト-』公式サイト・公式twitterを開設しました!これからの情報発信に、ご期待ください。#歌舞伎 #NARUTO #ナルト #坂東巳之助 #中村隼人 pic.twitter.com/0AHxg0t2DF

— 新作歌舞伎『NARUTO -ナルト-』公式 (@narutokabuki) 2018年4月3日
本日、記者会見が行われ、メインビジュアルが公開されました
公演日程やチケットの発売日も決定です

公演は8月4日(土)から27日(月)まで

チケット発売は6月23日(土)10:00より開始です

そして「和楽器バンド」の楽曲提供というビッグニュースも‼️
ご期待ください pic.twitter.com/CMZKfNd30g

— 新作歌舞伎『NARUTO -ナルト-』公式 (@narutokabuki) 2018年4月27日
Source: "Naruto" kabuki play official website, Twitter
© Masashi Kishimoto, Scott / Shueisha Inc.