Shinsuke Sato (GANTZ, I Am a Hero)-directed film's official Instagram also opens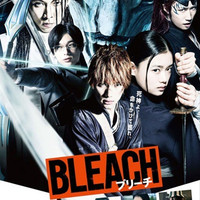 Five weeks before the approaching theatrical release in Japan, the official website for the upcoming live-action film adaptation of Tite Kubo's Bleachaction manga today starts streaming a 100-second new trailer introducing more characters and action scenes. You can find Masami Nagasawa (30) as Ichigo's mother Masaki, Yosuke Eguchi (50) as Ichigo's father Isshin, Seiichi Tanabe (49) as the owner of the Urahara Shop, Kisuke Urahara, Yu Konagi (29) as Ichigo's classmate Yasutora Sado, and Erina Mano (27), who is best known as the protagonist Akira Izumino in The Next Generation -Patlabor- live-action series, as one of the main heroines, Orihime Inoue.
Shinsuke Sato (GANTZ, Death Note Light up the NEW world)-directed film will be released in Japan on July 20, 2018.
New trailer
60-second version
New poster visual
さらにポスタービジュアル 解禁

命を懸けての壮絶な死闘を予感させる新ビジュアル

死神という運命を背負うことになった一護の成長、家族や仲間への想い、ルキアとの立場を超えた人間ドラマが、この夏日本を熱くする

『#BLEACH』7.20(金)公開 #映画ブリーチ pic.twitter.com/Chp6atBKio

— 映画『BLEACH』公式 (@bleach_moviejp) 2018年6月12日
Main cast:
Ichigo Kurosaki: Sota Fukushi (Gentaro Kisaragi in Kamen Rider Fourze)
Rukia Kuchiki: Hana Sugisaki (Rin Asano in Blade of the Immortal)
Uryu Ishida: Ryo Yoshizawa (Ryusei Sakuta/Kamen Rider Meteor in Kamen Rider Fourze)
Renji Abarai: Taichi Saotome (HiGH&LOW THE MOVIE)
Byakuya Kuchiki: MIYAVI (Unbroken, Kong: Skull Island)
---
The film's official Instagram has also opened with a video message from Sota Fukushi and Ryo Yoshizawa
公式Instagram 始動

映画『#BLEACH』公式instagramアカウントができました#福士蒼汰 さんと #吉沢亮 さんからinstagram限定コメントもいただいています

ぜひフォローをお願いします

公式Instagramhttps://t.co/3HXOd1EpfD #映画ブリーチ pic.twitter.com/AVcOFOOe4w

— 映画『BLEACH』公式 (@bleach_moviejp) 2018年6月12日
Source: "Bleach" live-action film official website, Twitter
©Tite Kubo/Shueisha
©2018 "Bleach" Film Partners