"I plan to finish it properly in the end, before I die."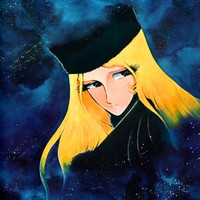 At the press conference for the live-action drama based on his Galaxy Express 999 sci-fi adventure manga series held in Tokyo yesterday, 80-year-old manga artist Leiji Matsumoto confirmed that he has started drawing a new story of the manga.
When one reporer asked him if he wanted to create 999's new story, prequel, spin-off, or anything (in the beginning of the video 3 below), Matsumoto answered, "I have already started drawing a new story. It has reached the point that the characters arrive the entrance of Black Hole Tunnel. Then the story will go beyond time, we don't know where they will go, the past or future. I have finished drawing that much." He also said, "I plan to finish it properly in the end, before I die. But I also feel like everything in my life will be ended at the same time 999 ends, so I don't want to draw it yet."
As reported, "Dream Black Hole," a newly-drawn manga episode of Galaxy Express 999 was recently
included in his 80th anniversary book from Shogakukan, "Matsumoto Leiji Mugen Souzou Kidou: 80th
ANNIVERSARY Chronicle" released in February 2018. The 32-page episode tells "the beginning of the
never-ending journey" of Tetsuro and Maetel, who board Galaxy Express 999 to seek the mysterious
"Dark Tunnel" appears in the galaxy.
Press conference video 3 that Matsumoto talked about the new 999 story
Video 1
Video 2
The 60-minute drama starring 33-year-old actress Chiaki Kuriyama (Gogo Yubari in Quentin Tarantino's
2003 film Kill Bill: Volume 1) as the main heroine Maetel and 17-year-old comedian Oushirou Maeda as
the male protagonist Tetsuro Hoshino, was live-broadcast on BS Sky PerfecTV! at 20:00 on June 18 (JST).
\☆本番まで、あと2時間☆/
いよいよ本日よる8時!40年の時を経て、「銀河鉄道999」が"生ドラマ"で甦る!
台本の表紙を大公開!手前味噌で大変恐縮ですが、最高の出来に仕上がっておりますます!!!!メーテルと鉄郎の運命はいかに!?是非ご覧下さい★https://t.co/gx7oT5ooIG#銀河鉄道999 pic.twitter.com/VsWHGdXTgu

— BSスカパー!(BS241/CS579) (@bs_sptv) 2018年6月18日
「銀河鉄道999」生ドラマ放送終了~!CGの凄さに驚きつつ、スタッフの職人芸に感動しつつ、何より出演者の皆様の魂のこもった台詞と迫真の演技に感銘を受けましたっ松本零士先生のオチャメな姿も素敵^^
再放送は、7/29(日)午後7時~ぜひご覧下さい! https://t.co/dsq2Mhcwh3 #銀河鉄道999 pic.twitter.com/q6jscu1Dkv

— BSスカパー!(BS241/CS579) (@bs_sptv) 2018年6月18日
via: Mantan Web