Kunihiro Mori (Shonen Onmyoji, Chosoku Henkei Gyrozetter) serves as director at Liden Films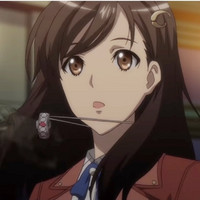 The official Twitter for the upcoming TV anime Phantom in the Twilight confirmed today that its OP theme song "Flowery song" is performed by 36-year-old Taiwanese singer/actor 汪東城/Jiro Wong. He is a member of Taiwanese Mandopop vocal quartet boy band Fahrenheit, whose two albums have been released by Pony Canyon in Japan. It is expected to be his first solo single to be released in Japan
"Flowery song" is written by Japanese gay poet Dan Osano, who currently lives in Taipei, Taiwan, and is composed/arranged by JUDY AND MARY guitarist Takuya. Osano also worked on vocal direction in the recording because it is Jiro' first Japanese lyrics song.
2nd PV
【楽曲情報!】
PV第2弾で情報解禁となりました!

TVアニメ『Phantom in the Twilight』のOPを歌ってくださるのは、#汪東城 さん!

作詞:小佐野 彈さん、作曲/編曲:TAKUYAさんでお届けします!

是非、アニメが始まる前にご覧ください♪https://t.co/WYbwwiDKyi#ファントワ #ワンドンチェン

— TVアニメ『Phantom in the Twilight』公式 (@phantowa_anime) 2018年6月20日
---
The concept and story of the TV anime Phantom in the Twilight is created by Beijing-based smartphone
game company Happy Elements as its first original anime series. Liden Films (The Heroic Legend of Arslan)
works on anime production, Kunihiro Mori (Chosoku Henkei Gyrozetter) serves as director.
The story is set in a mysterious cafe in London, "Cafe Forbidden," which opens only at night. The staff
of the cafe are all non-human beings: Vlad Garfunkel (vampire), Luke Bowen (werewolf), and Tauryu
(Jiangshi/Chinese zombie). One day, a girl named Baileu Ton wanders into the cafe. Her great-grandmother
was the first owner of the cafe and also a legendary sorcerer. While solving the trouble Ton is in, various
bonds are formed between her and the handsome staff.
The TV anime is set to premiere on Tokyo MX and BS Fuji on July 9.
Main Voice Cast:
Vlad Garfunkel: Takahiro Sakurai (Suzaku Kururugi in Code Geass: Lelouch of the Rebellion)
Luke Bowen: Nobuhiko Okamoto (Accelerator in A Certain Magical Index)
Tauryu: Tomokazu Sugita (Gintoki Sakata in Gintama)
Wayne King: Daiki Yamashita (Sakamichi Onoda in Yowamushi Pedal)
Baileu Ton: Kana Hanazawa (Mikan Yuuki in To Love-Ru)
Haysin: Junichi Suwabe (Keigo Atobe in The Prince of Tennis)
Val Helsing: Rikiya Koyama (Kogoro Mouri in Detective Conan)
Mu Shinyao: Manaka Ishimi (Hotaru Hoshikawa in New Game!)
Chris: Yuuki Ono (Taiga Kagami in Kuroko's Basketball)
Sha Rijan: Yui Horie (Liko Izayoi/Cure Magical im Maho Girls PreCure!)
Backup: Kousuke Toriumi (Aijima Cecil in Uta no Prince-sama)
Geroge L. Gregory: Kenji Nomura (Gilles de Rais in Drifters)
オリジナルアニメ「Phantom in the Twilight」(ファントム イン ザ トワイライト)の制作が決定!2018年7月TOKYO MX、BSフジほかにて放送開始!! https://t.co/WojlPtxi5w #ファントワ pic.twitter.com/6KQO2AIFz0

— TVアニメ『Phantom in the Twilight』公式 (@phantowa_anime) 2018年3月25日
Source: TV anime "Phantom in the Twilight" official Twitter
©2018 Happy Elements AP