The TV anime's original OP movie is now streamed on YouTube to promote the Blu-ray box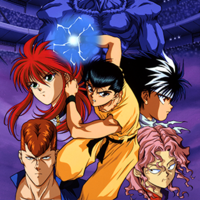 As part of the 25th anniversary project for the anime franchise based on Yoshihiro Togashi's supernatural manga Yu Yu Hakusho, select 26 episodes focusing on the fights against Team Toguro in the TV anime's Dark Tournament Saga will be rebroadcast on Tokyo MX from this July. And its popular 55th episode "Bakuretsu! Mezameta Youko/The Beast Within" to be aired on August 20 will have audio commentary newly recorded by three voice cast: Megumi Ogata (Kurama), Ryo Horikawa (Karasu), and Shigeru Nakahara (Youko/damon Fox Kurama).
As reported, the 25th anniversary Blu-ray set of the anime series will be released in four sets: Volume 1: "Underworld Detective Saga" (July 27, 2018), Volume 2: "Dark Tournament Saga" (August 28, 2018), Volume 3: "Sensui Saga" (September 26, 2018), and Volume 4: "Makai/Demon World Saga" (October 26, 2018). To promote the upcoming release, the TV anime's original OP movie featuring "Hohoemi no Bakudan" by Matsuko Mawatari is now streamed on Bandai Namco Arts' official
YouTube channel. Please feel the nostalgia.
Blu-ray box 1st set
【Blu-ray BOXイラスト解禁】7月27日発売「幽☆遊☆白書 25th Anniversary Blu-ray BOX 霊界探偵編」ボックス&インナージャケットを初公開!霊界探偵編に登場するキャラクターが集結したBOXと、雪菜救出編をイメージしたインナージャケットどちらも描き下ろしの豪華仕様です!https://t.co/w6OPf8p2oJ pic.twitter.com/DLIGhAYSeF

— アニメ「幽☆遊☆白書」公式 (@yuhaku25th) 2018年6月20日
Source: "Yu Yu Hakusho" 25th anniversary project site
©Yoshihiro Togashi 1990-1994 
©Pierrot/Shueisha