Deux nouvelles séries bientôt en simulcast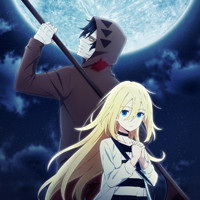 Après ISLAND et The Master of Ragnarök & Blesser of Einherjar, nous sommes ravis de vous annoncer deux autres séries que vous pourrez suivre dès juillet en simulcast en VOSTFR sur Crunchyroll. Angels of Death (Satsuriku no Tenshi) et une série du studio J.C.STAFF où une jeune femme doit s'allier à un tueur en série pour s'échapper d'un lieu où elle est retenue prisonnière. Enfin, How Not to Summon a Demon Lord (Isekai Maô to Shôkan Shôjo Dorei Majutsu) est l'adaptation d'un light novel de type « isekai » (une aventure dans un autre monde).
Ce n'est bien sûr que le début d'un programme qui réserve encore d'autres surprises !
Angels of Death
Lorsque Rachel se réveille dans le sous-sol d'un immeuble abandonné, elle ne comprend pas comment elle est arrivée là. Tandis qu'elle cherche une sortie, elle tombe sur Zack, un tueur en série portant une faux et bandé de la tête aux pieds. L'homme lui demande de le tuer, ce qu'elle accepte s'il l'aide à s'échapper. Cette étrange promesse les entraîne à devenir partenaires. Où sont-ils ? Pourquoi sont-ils piégés ? Quel destin les attend ? Un voyage entre la vie et la mort commence…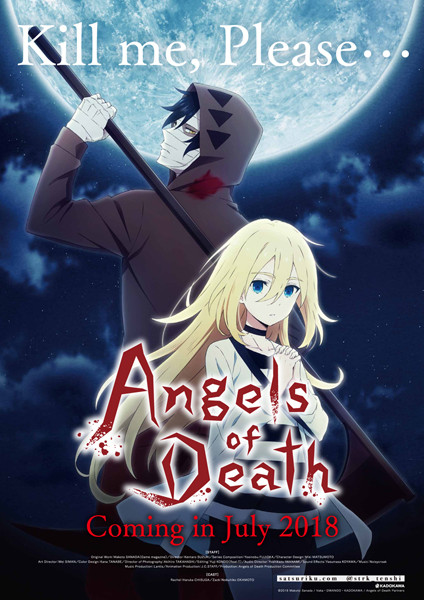 L'histoire est adaptée d'un jeu vidéo d'horreur et d'aventure développé au Japon pour Microsoft Windows. La série est réalisée par Kentarô Suzuki (MARGINAL #4 the Animation) et produite par le studio J.C.STAFF (Food Wars!, Taboo Tattoo).
How Not to Summon a Demon Lord
Takuma Sakamoto est si fort dans le MMORPG Cross Reverie que les autres joueurs l'ont surnommé le Seigneur Démon. Un jour, il se retrouve projeté dans un autre monde sous la forme de son avatar. Il fait la connaissance de deux filles qui revendiquent le fait de l'avoir invoqué. Elles lui lancent alors un sort pour l'asservir, mais Takuma réplique avec son unique pouvoir, Magic Reflect, qui fait tomber ces filles sous son charme.
Ainsi commencent les aventures d'un (prétendu) Seigneur Démon qui trace son chemin dans un monde inconnu !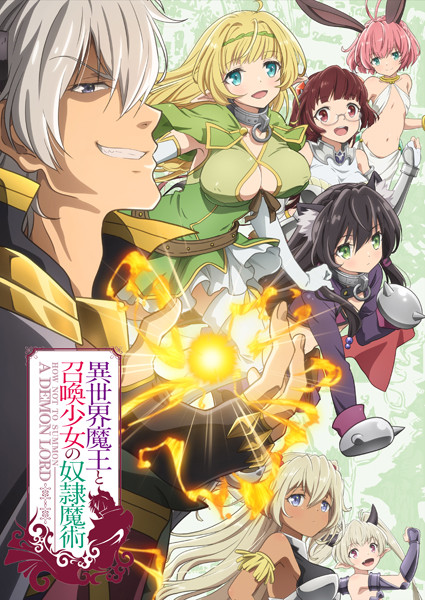 L'histoire est adaptée d'un light novel (série de romans) publié au Japon depuis 2014 par Kôdansha. La série est réalisée par Yûta Murano (Dream Festival!) et produite par le studio Ajiado (Shûmatsu no Izetta).