All of the 55 PreCure girls have their voices in the franchise's 15th anniversary film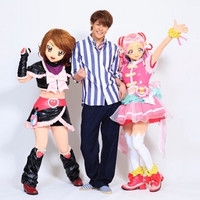 The official YouTube channel for Toei Animation's PreCure anime franchise has started streaming a 100-second full trailer for the upcoming new crossover film Eiga Hugtto! PreCure♡Futari wa PreCure All Stars Memories to be released in Japan on October 27, 2018. The clip introduces Miden, the main villain character of the film voiced by Mamoru Miyano for the first time.
Needless to introduce, Miyano has been recognized as one of the most popular anime voice actors, playing Light Yagami in Death Note (2006-2007), Setsuna F. Seiei in Mobile Suit Gundam 00 (2007-2009), Tokiya Ichinose in Uta no Prince-sama (2011-), Rin Matsuoka in Free! (2013-), and many others. This is the first time for him to voice a character for the PreCure anime franchise.
Miden is described as a character who has a special ability to steal the PreCure girls' memories and to copy their habitual sayings (for example, Nagisa's "Bucchake Arienai!") and attacks. The trailer also
shows the PreCure girls' smaller deformed form, saying "If their memories are taken, they become
smaller!?"
Full trailer
Miyano says, "I am so happy to join this memorial film for the PreCure franchise. I am so excited to see
all of the 55 successive PreCure girls appear all at once."
Cure Black (Futari wa PreCure), Mamaru Miyano, Cure Yell (Hugtto PreCure!)
【宮野さんのコメントも到着】
プリキュアの記念すべき作品に出演することが出来てすごく幸せです。
歴代プリキュア、55人が勢揃いすることに僕自身もとても興奮しました。#映画プリキュア #precure #宮野真守 pic.twitter.com/Hbh1rsYcHx

— 映画HUGっと!プリキュア♡ふたりはプリキュア オールスターズメモリーズ』 (@precure_movie) 2018年6月26日
As reported, all of the 55 original voice cast are confirmed to voice their characters in the franchise's 15th
anniversary film.
映画最新情報
10月27日(土)公開
映画HUGっとプリキュア♡ふたりはプリキュア オールスターズメモリーズ』
で2年半ぶりにオールスターズが帰ってくる!
15周年を記念して歴代プリキュア55人が総出演!
ポスタービジュアルも到着しました#映画プリキュア #precure pic.twitter.com/dacA350ugG

— 映画HUGっと!プリキュア♡ふたりはプリキュア オールスターズメモリーズ』 (@precure_movie) 2018年6月17日
Source: "Eiga Hugtto! PreCure♡Futari wa PreCure All Stars Memories" official Twitter
(C)2018 Movie Hugtto! PreCure Production Committee