62-page story will be released as a part of Weekly Shonen Jump's 50th anniversary project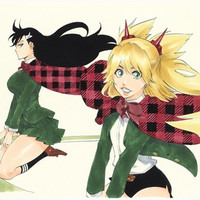 The official website for Shueisha's Weekly Shonen Jump confirmed today on June 28 that Bleach manga author Tite Kubo's newly-drawn one-shot love comedy manga titled BURN THE WITCH will be published in the magazine's 33rd issue to be released in Japan on July 14. It has been 22 months since he ended the serialization of Bleach in the magazine in August 2016.
The length of BURN THE WITCH is 62 pages, which is unusually long for a one-shot story. While its plot is kept secret, the site offers three keywords: "Witch," "Dragon," and "Reverse London." The third word may suggest the story is set in the UK.
Japan's top-selling weekly manga magazine now celebrates its 50th anniversary, BURN THE WITCH will be released as a part of its anniversary project.
【特報】「BLEACH」の久保帯人先生、2年ぶりの新作読切「BURN THE WITCH」が、少年ジャンプ創刊50周年記念号となる33号(7/14発売)に62ページの特大ボリュームで掲載決定!魔女、ドラゴン、リバース・ロンドン…そしてラブコメ⁉︎久保先生が描く新たな世界、必読です‼︎https://t.co/sm8afuqYvo pic.twitter.com/JtJi4G5Zhb

— 少年ジャンプ編集部 (@jump_henshubu) 2018年6月28日
Kubo also announced the news on his official Twitter, saying "I draw a love-comedy." and suggesting that
62 pages are almost the same amount as the first chapter of a new serialization work, even though it is
a one-shot.
2018年6月28日
Source: Weekly Shonen Jump official website and Twitter, Tite Kubo official Twitter