Second edition advance tickets with an A3-size clear poster will go on sale on July 14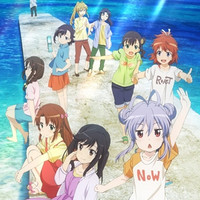 The official website for the upcoming anime feature film Non Non Biyori Vacation is again updated with a new key visual featuring its main girls gathering at a groyne, and posted new individual character visuals for the film. The second edition advance ticket with an A3-size clear poster featuring this new visual will be available at theaters from Jul y14.
The anime series' first feature film focuses on the five main girls' trip to Okinawa during their summer vacation and is set to be released in Japan on August 25, 2018. The previous two TV anime's main staff, including director Shinya Kawatsura (Tanaka-kun is Always Listless), screenplay writer Reiko Yoshida (Girls und Panzer), and character designer Mai Ohtsuka (Urara Meirocho), are all attached to the film project.
新しいビジュアルをこうかいっ!
みんな大集合なのん!海、綺麗なんなー。
公開までもうすぐなん!みんな楽しみにしてて欲しいのん!#なのん pic.twitter.com/YfFWsXlhhx

— 「のんのんびより」公式PRツイッター (@nonnontv) 2018年6月27日
A-3 clear poster and the "MoviTicke" edition advance ticket
劇場限定前売り券第2弾が【7月14日(土)】に発売決定なーん!
ムビチケと特典のA3クリアポスターがセットになったお得な前売り券ですん。
特典は無くなり次第終了だからみんなで買いにいくん!#なのん pic.twitter.com/c6dYYGFVvv

— 「のんのんびより」公式PRツイッター (@nonnontv) 2018年6月27日
1st PV
---
Character visuals:
Renge Miyauchi (CV: Kotori Koiwai)
宮内れんげ CV:小岩井ことり
旭丘分校で最年少の小学1年生。語尾に「~のん」をつけるのが口癖。独特の感性の持ち主で、次々と迷言を生み出す。
12月3日生まれ。#なのん pic.twitter.com/lODiLVi032

— 「のんのんびより」公式PRツイッター (@nonnontv) 2018年6月27日
Hotaru Ichijo (Rie Murakawa)
一条 蛍 CV:村川梨衣
東京の学校から転校してきた小学5年生。小学生とは思えないほどに発育がよく、近所のおばさんにはお見合い写真を渡される始末。
5月28日生まれ。#なのん pic.twitter.com/IUe2rxzSde

— 「のんのんびより」公式PRツイッター (@nonnontv) 2018年6月27日
Natsumi Koshigaya (Ayane Sakura)
越谷夏海 CV:佐倉綾音
中学1年生。明るい性格でクラスのムードメーカー。イタズラ好きで、家の壁に穴を空けちゃったりしている。
1月24日生まれ。#なのん pic.twitter.com/qJgXa7fGvZ

— 「のんのんびより」公式PRツイッター (@nonnontv) 2018年6月27日
Komari Koshigaya (Kana Asumi)
越谷小鞠 CV:阿澄佳奈
夏海の姉で、中学2年生。旭丘分校の女子生徒では最高学年。身長140cmに満たないことを気にしている。
9月14日生まれ。#なのん pic.twitter.com/C6HViQkUdh

— 「のんのんびより」公式PRツイッター (@nonnontv) 2018年6月27日
Suguru Koshigaya (?)
越谷 卓 CV:???
中学3年生。
夏美・小鞠の兄で、旭丘分校の生徒では最年長。
あまり存在感がない。4月11日生まれ。#なのん pic.twitter.com/23d5OTbOcl

— 「のんのんびより」公式PRツイッター (@nonnontv) 2018年6月27日
Kazuho Miyauchi (Kaori Nazuka)
宮内一穂 CV.名塚佳織
24歳。れんげの姉。
旭丘分校で教師をしているが、授業中に寝ていることも……。#なのん pic.twitter.com/56bXS5R5gB

— 「のんのんびより」公式PRツイッター (@nonnontv) 2018年6月27日
Kaede Kagayama (Rina Sato)
加賀山楓 CV.佐藤利奈
20歳。
旭丘分校卒業生で、現在駄菓子屋を経営している。#なのん pic.twitter.com/m3YjRYK2SJ

— 「のんのんびより」公式PRツイッター (@nonnontv) 2018年6月27日
Hikage Miyauchi (Misato Fukuen)
宮内ひかげ CV.福圓美里
高校1年生。
れんげの姉で、一穂の妹。
田舎を出て東京の高校に通っている。#なのん pic.twitter.com/moTPoDHzvr

— 「のんのんびより」公式PRツイッター (@nonnontv) 2018年6月27日
Konomi Fujimiya (Ryoko Shintani)
富士宮このみ CV.新谷良子
高校3年生。
旭丘分校の卒業生で、越谷家のとなりに住んでいる。
おしとやかに見えて実は好奇心旺盛な性格。#なのん pic.twitter.com/s2i74otTmP

— 「のんのんびより」公式PRツイッター (@nonnontv) 2018年6月27日
Aoi Niizato (Shino Shimoji)
新里あおい CV.下地紫野
中学1年生。
れんげたちが宿泊する民宿「にいざと」の看板娘。#なのん pic.twitter.com/aGepdO8mMu

— 「のんのんびより」公式PRツイッター (@nonnontv) 2018年6月27日
Source: "Non Non Biyori vacation" official website, PR Twitter
©2018 Atto, Kadokawa/Asahigaoka Branch School Managing Board