Destinazioni annunciate per Otome Yōkai Zakuro, Under the Rose e altri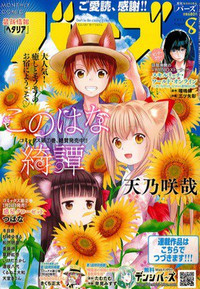 ---
Il numero finale di Monthly Comic Birz Magazine della Gentosha, venduto sabato, ha annunciato la destinazione per i manga compresi nella rivista. I seguenti finiranno online sul sito Denshi Birz della Gentosha dal 30 luglio:
Konohana Kitan di Sakuya Amano

Hanataba o Kudasai di Shunju Amano

Skill Rich World Online ~Rare toiu yori Minor na Skill di Furimawasaru Boku~ di Ameizen e Akira Mitsuya

Tokei Jikake no Ane di Takashi Ikeda

Sentiment no Yukue di Nariko Enomoto

Ayatsuji Yomiji Chizu Kōbō di Yashiro Ōsaka

Magic Battlefront di Kōichi Kusano

Saotome-kun to Q-chan di Yamato Kuroneko

Keishichō Battōka di Misaki Saitō

Coffee & Cat di Yukiru Sugisaki

Wakusei Closet di Tsubana

In Between Indigo and Blue di Kirin Tendō

Tomodachi Gokko di Daisy Yamada
Anche il manga Otome Yōkai Zakuro di Lily Hoshino si sposterà su Denshi Birz il 30 luglio, ma avrà una pausa.
Beast of east di Akihiro Yamada e Ayuni di Pako, che sono fermi, saranno su sito quando torneranno a uscire.
Under the Rose di Akari Funato sarà disponibile digitalmente dal 10 settembre, malgrado i dettagli non siano ancora stati annunciati. Variée Garden di Kiki finirà sulla rivista web Rutile Sweet, il 22 agosto.
La Kodansha ha lanciato questa rivista col nome di Comic Burger nel 1986. La rivista divenne della Scholar nel 1988 e la compagnia cambiò il nome in Comic Birz nel 1996. Venne poi acquisita dalla Sony Magazines nel 1999 dopo la chiusura della Scholar. Dopo che la Sony si è ritirata dal mercato dei manga, nel 2001, la rivista è stata acquisita dalla Gentosha.
Fonti: Comic Birz website, Mantan Web
Notizia originale di Karen Ressler su AnimeNewsNetwork