"I have nothing but gratitude toward the people who have supported the series."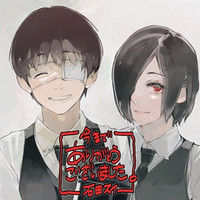 As reported, Sui Ishida's dark fantasy manga Tokyo Ghoul:re ended its four-year serialization in Shueisha's Weekly Young Jump with its 179th chapter on July 5. The final chapter was published in the magazine's latest 31st issue of 2018 released on Thursday.
Following the first installment Tokyo Ghoul serialized from September 2011 to September 2014 with 14 tankobon volumes, the sequel soon launched in October 2014 and has published 15 volumes. The two installments have printed more than 35 million copies worldwide in total.
On the release day of the issue, the author also posted a special illsutration and messages to appreciate for support by the people on his official Twitter feed.
"Young Jump including the final chapter is now on sale. All the readers, Young Jump's editorial department,
the people at the printing office, the people who have been involved with the series, all of my staff, thank
you very much."
最終回が掲載されたヤングジャンプが発売されております。

読者の方々、ヤングジャンプ編集部、印刷所の方々、
作品に携わって下さった方々、スタッフのみんな、
本当にありがとうございました。 pic.twitter.com/9HWbWJQooh

— 石田スイ (@sotonami) 2018年7月5日
"Including the preparation period, I have kept drawing without break for the whole seven years from
June 2011 to June 2018. Though it was an immature and unskillful work, I am proud of the fact that
I was able to draw until the end."
準備期間も含めれば、
2011年6月~2018年6月まで、丸7年間ほぼ休みなく描き続けました。
未熟で拙い作品ではありましたが、最後まで描けたことを誇りに思います。

— 石田スイ (@sotonami) 2018年7月5日
"During the recent six months, I was drawing while preparing to get my feelings in order, like "It will
end." When it actually ended, as I expected, I am having a felling that something falls out all of sudden."
この半年間は、「終わるぞ」と気持ちの準備をしながら描いてきましたが、
いざ終ってみればやはり、急に何かスコーンと抜け落ちたような感覚になっています。

— 石田スイ (@sotonami) 2018年7月5日
"I caused so many troubles to the editorial department and the printing office until the very end. I really
appreciate for them for accepting so many excessive requests from me. I was able to try many things
and they have contributed greatly to improve the person I am."
編集部・印刷所には多大なるご迷惑を…最後までおかけしましたが、
僕の無茶をいろいろ受け入れていただいて本当にありがとうございました。
たくさんチャレンジ出来て、自分の糧になりました。

— 石田スイ (@sotonami) 2018年7月5日
"I will spend my days drawing something carefree for a while. And again, I have nothing but gratitude
toward the people who have supported the series. I really appreciate for your support until now. I hope
to see you again somewhere. Well then, adieu."
一先ず、しばらくはのんびり絵でも描いて過ごしてみます。

改めて、関わってくださった皆さんには感謝しかありません。
本当に、いままでありがとうございました。またどこかで。

では、どうも。ごきげんよう。

— 石田スイ (@sotonami) 2018年7月5日
Source: Sui Ishida Twitter