Shirogumi-animated series is set to premiere in Fuji TV's "+Ultra" midnight block in January 2019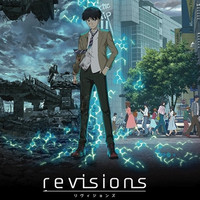 The official website for 51-year-old acclaimed anime director Goro Taniguchi (Infinite Ryvius, Code Geass: Lelouch of the Rebellion)'s new original TV anime revisions today announced its six main voice cast, and posted a new key visual featuring the protagonist Daisuke Dojima and a 60-second new teaser PV.
Following INGRESS THE ANIMATION in October 2018, revisions is set to premiere on Fuji TV's newly-launched midnight programming block "+Ultra" in January 2019. It is also scheduled to be streamed worldiwde via Netflix.
2nd teaser PV
New key visual
「revisions リヴィジョンズ」最新のキービジュアル&PVが解禁!300年以上先の「未来」に転送されてしまった渋谷を取り囲む広大無辺な荒野、そこに待ち受けるものとは…!?:https://t.co/4nV7KBODDD #revisions pic.twitter.com/iURL7o5SUa

— TVアニメ「revisions リヴィジョンズ」2019年1月放送 (@revisions_PR) 2018年7月9日
Main voice cast:
Daisuke Dojima: Koki Uchiyama (Banagher Links in Mobile Suit Gundam Unicorn)
Milo: Mikako Komatsu (Ayame Kagurazaka in Eromanga Sensei)
Chang Gai Steiner: Nobunaga Shimazaki (Haruka Nanase in Free!)
Chang Lu Steiner: Rie Takahashi (Mirai Asahina/Cure Miracle in Maho Girls PreCure!)
Marin Temari: Manaka Iwami (Teresa Wagner in Tada Never Falls in Love)
Keisaku Asano: Soma Saito (Tadashi Yamaguchi in Haikyu!!)
内山昂輝さん、小松未可子さん、島﨑信長さん、高橋李依さん、石見舞菜香さん、斉藤壮馬さんといった豪華キャストが発表に!公式サイトではキャストコメントも公開されているので、ぜひチェックしてください!:https://t.co/tUg9ZxJNpg #revisions pic.twitter.com/OjpZGntKGN

— TVアニメ「revisions リヴィジョンズ」2019年1月放送 (@revisions_PR) 2018年7月9日
Main Staff:
Original Story: S・F・S
Director: Goro Taniguchi (Infinite Ryvius, Code Geass: Lelouch of the Rebellion)
CG Director: Takamitsu Hirakawa (Etotama CG director)
Series Composition: Makoto Fukami (PSYCHO-PASS novelizations), Taichi Hashimoto (Gate Keepers 21)
Original Character Design: Sunao Chikaoka (Wake Up, Girls!)
Mecha Design: Yohei Arai (Etotama CG storyboards)
CG Character Design: Jun Shirai (Etotama episode animation director)
BG Concept Artist: Masato Shirota
Matte Paint Director: Minoru Ohnishi
Art, Setting: Ryu Sakamoto
Color Design: Akemi Nagao
Director of Photography: Kazuhiko Takahashi
Editing: Shuri Saito
Sound Director: Jin Aketagawa
Music: Azusa Kikuchi (Etotama)
Planning: Slow Curve
Anime Production: Shirogumi (Etotama, URAHARA)
---
The official website introduces the story setting as below:
This is a prophecy.
Someday, the five of you will be
put into terrible danger.
And when that happens,
you're the only one who can protect everyone.
Daisuke Dojima, a 2nd-year student in high school who was kidnapped when he was younger,
experiences a strange phenomenon along with his friends Gai, Lu, Marimari, and Keisaku:
"Shibuya Adrift".
The center of the city of Shibuya is transported more than 300 years in the future. The people
sent with it find nothing there but vast wastelands and forests, dotted with ruins… and hostile
beings called "Revisions" that control massive mechanical monsters.
As the monsters tear through Shibuya, someone appears to save the people: a girl with the
same name, "Milo", as the one who helped Daisuke when he was kidnapped, who looks identical
to her as well. She gives Daisuke and his friends weapons called "String Puppets" that they can
pilot, and tells them to protect Shibuya.
Daisuke has spent his whole life believing in the prophecy that Milo gave him when he was
kidnapped, and he's overjoyed that the time has come at last and at the power he's gained.
But the kidnapping incident tore the 5 childhood friends apart.
An isolated city. An unknown enemy. An uncertain past and a prophecy of the future. The children
fight the "future" to bring back the "present". No matter what, they're going home...
Source: TV anime "revisions" official website, Twitter
© revisions production committee