The highly-anticipated sequel featuring the same cast and staff hits theaters August 17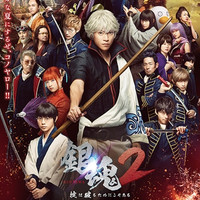 As reported several times, the first live-action film based on Hideaki Sorachi's sci-fi comedy manga series Gintama was released in Japan on July 14, 2017. It earned an impressive 3.84 billion yen from its domestic run and became the top-grossing Japanese live-action film in the summer season. Thanks to the huge commercial success, its sequel immediately got the green light. The second film titled Gintama 2: Okite wa Yaburu tame ni koso Aru (The Rule is surely there to be broken) featuring the same cast and staff is set to open in Japan on August 17, 2018.
To promote the upcoming release, the latest issue of Japanese weekly female fashion magazine anan introduces the sequel film in its feature article "The equation for hit films," including the interview with director Yuichi Fukuda.
本日発売のananは「ヒット映画の方程式」。『劇場版コード・ブルー』『銀魂2 掟は破るためにこそある』『未来のミライ』ほか、ヒット映画の秘密を分析し、おすすめ新作をご紹介。#anan #アンアン #山下智久 #新垣結衣 #戸田恵梨香 #比嘉愛未 #浅利陽介 #竹内涼真 #小栗旬 #細田守 #稲垣吾郎 #有岡大貴 pic.twitter.com/SBxoByBE4F

— anan (@anan_mag) 2018年7月10日
One day after the release of the issue, Fukuda let out his true feelings on Twitter.
"While anan has a nice feature article about Gintama with a ton of super cool photos, I have been in great
distress because I am not satisfied with my interview... The magazine wanted me to logically explain the
reason for the first film's success last year, but I have been making films only with the spirit 'Let's make
things that can entertain the audience!', so I don't know what to say to such a 'logic'."
ananで銀魂の特集をして下さり、超カッコいい写真載りまくりなんだけど、自分のインタビューに満足いかなくて悶々中「去年の銀魂がヒットした理由を論理的に述べよ」的な取材だったんだけど、俺は「お客さんが喜んでもらえるものを!」という精神のみで作ってるから論理と言われると困るのでござる

— 福田 雄一 (@fukuda_u1) 2018年7月11日
By the way, Fukuda has his 50th birthday today on July 12. Happy birthday!
Happy Birthday

本日7月12日は #福田雄一 監督のお誕生日ちょうど50歳とのことで、とってもおめでたいです

監督!#銀魂2 公開に向けて宣伝一同さらに盛り上げていくので、引き続きよろしくお願いします pic.twitter.com/MXqubJQFeG

— 映画『銀魂2』公式 (@gintama_film) 2018年7月11日
"Gintama 2: Okite wa Yaburu tame ni koso Aru" poster visual
宇宙一バカな夏にするぜ、コノヤロー

\\遂に本ポスター解禁//

"超豪華"の言葉に曇りなし!『銀魂』愛に満ちた豪華キャストが勢揃い!今年の夏はもっと笑って・もっと泣いて・もっとアツくなる

#銀魂2が日本映画の常識を覆す pic.twitter.com/nJbS7m5Tm2

— 映画『銀魂2』公式 (@gintama_film) 2018年7月5日
Source: Yuichi Fukuda Twitter, "Gintama" live-action film website/Twitter
(C)Hideaki Sorachi/Shueisha (C)2017 Movie "Gintama" Production Committee