Shinsuke Sato (GANTZ, I Am a Hero)-directed film will open in Japan next Friday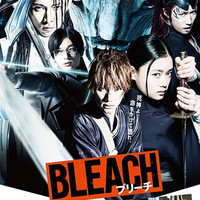 Just one week before the live-action film's theatrical release in Japan, Bleach manga author Tite Kubo posted his comments on it on his official Twitter account today.
2018年7月14日
To tell the truth, I have not been involved in this live-action film so much for two reasons.
First, I had a feeling that I wanted to see which part of the original manga director Sato decided to
use and omit as a live-action film.
And second, I was just in the middle of making the climax story of the manga serialization when I was
informed of the film project, so I was not able to afford the time to take part in the film fully.
Instead, I was allowed to offer only two requests:
1. Don't change the distance and relationships among the characters from the original manga.
2. Don't make contradictions in the characters' emotions and action.
As a result, I think they made a good quality film.
In order to make it simple as a film, the film drops advance hints differently, so there are, of course,
many things that are different from the manga, but many battles are connected smoothly and are
mixed together with the story.
The film's speedy and large-scale action reach a new level as a Japanese film.
Honestly, I had said, "I will not write any comments if I don't like it," until I saw the completed film.
I'm glad that I can write my comments.
Please go to the theater to check how the film looks.
---
Shinsuke Sato (GANTZ, Death Note Light up the NEW world)-directed film will be released in Japan
on July 20, 2018.
Trailer
"You can learn about the world of 'Bleach' in one minute"
Poster visual
さらにポスタービジュアル 解禁

命を懸けての壮絶な死闘を予感させる新ビジュアル

死神という運命を背負うことになった一護の成長、家族や仲間への想い、ルキアとの立場を超えた人間ドラマが、この夏日本を熱くする

『#BLEACH』7.20(金)公開 #映画ブリーチ pic.twitter.com/Chp6atBKio

— 映画『BLEACH』公式 (@bleach_moviejp) 2018年6月12日
Main cast:
Ichigo Kurosaki: Sota Fukushi (Gentaro Kisaragi in Kamen Rider Fourze)
Rukia Kuchiki: Hana Sugisaki (Rin Asano in Blade of the Immortal)
Uryu Ishida: Ryo Yoshizawa (Ryusei Sakuta/Kamen Rider Meteor in Kamen Rider Fourze)
Renji Abarai: Taichi Saotome (HiGH&LOW THE MOVIE)
Byakuya Kuchiki: MIYAVI (Unbroken, Kong: Skull Island)
Orihime Inoue: Erina Mano (Akira Izumino in The Next Generation -Patlabor-)
Yasutora Sado: Yu Konagiu
Masaki Kurosaki: Masami Nagasawa
Isshin Kurosaki: Yosuke Eguchi
Kisuke Urahara: Seiichi Tanabe
---
Source: Tite Kubo official Twitter
©Tite Kubo/Shueisha
©2018 "Bleach" Film Partners