Shinichiro Ushijima (One-Punch Man assistant director)-directed film will open on September 1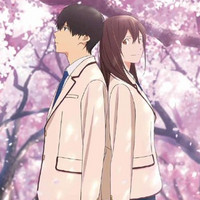 The official website for the upcoming anime film adaptation of Yoru Sumino's love story novel Kimi no Suozu wo Tabetai/I Want to Eat Your Pancreas has posted its main key visual and started streaming a 90-second full trailer featuring its OP song "Fanfare" and theme song "ShunkaShutou" (Four Seasons) performed by four-member Japanese rock band sumika.
Main key visual with a tagline "My memory in Spring. Her memory for her whole life."
新キービジュアルを公開

「僕の春の思い出。彼女の一生の思い出。」

こちらのポスターは今週末から全国映画館で展開されます#君の膵臓をたべたい #キミスイ pic.twitter.com/0BQF9aF3t8

— 劇場アニメ「君の膵臓をたべたい」公式 (@kimisui_anime) 2018年7月16日
Full trailer legitimatley provided for Mantan Web's MAiDiGi YouTube channel
---
Shinichiro Ushijima, who recently worked as assistant director for the TV anime One-Punch Man,
makes his directorial debut on his own screenplay. Yuichi Oka, best known for his character design
works for the To Love-Ru anime series, serves as character designer/chief animation director. Studio
VOLN (Ushio and Tora, Idol Incidents) works on anime production.
21-year-old Mahiro Takasugi, best known for his performance as Mitsuzane Kureshima/Kamen Rider
Ryugen in the 15th Heiesi Kamen Rider series Kamen Rider Gaim (2013-2014), is cast as the male
protagonist "Boku." This is his first anime voice acting work. Meanwhile, 25-year-old anime voice
actress Lynn, who played Maya Kyodo in Sabagebu! (2014), Lisesharte Atismata in Undefeated
Bahamut Chronicle (2016), and Himari Takanashi in Interviews with Monster Girls (2017), voices
the main heroine Sakura Yamauchi.
---
Seven Seas Entertainment has licensed the novel and its two-volume manga adaptation illustrated by
Izumi Kirihara, both in print and digital. The single volume novel is set to be released in North America
on November 20, 2018, then the manga in a single omnibus edition will follow January 22, 2019.
Seven Seas Entertainment introduces the story as below:
In this deeply moving first-person story, a high school boy finds the diary of his classmate—and discovers
that she's dying. Yamauchi Sakura has been silently suffering from a pancreatic disease in school, and
now exactly one person outside her family knows. He swears to her that he won't tell anyone what he
learned, and the shared secret brings them closer together. The two have very little in common, but
they find themselves drawn to each other in Sakura's final months to live.
Japanese edition novel/manga 1st volume
Source: Anime film "I Want to Eat Your Pancreas" official Twitter, Mantan web
© Yoru Sumino/Futabasha © Kimi no Suizou wo Tabetai Anime Film Partners