The first TV anime's theme/insert songs and soundtrack music are now available digitally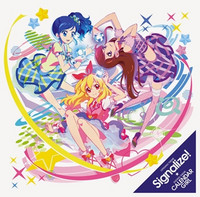 It has been confirmed that "Calendar Girl," the first ED theme song for the TV anime Aikatsu!, will be re-released as a vinyl record (picture record edition) in near future. This is the first time for the five-year-old franchise to release a vinyl record of its song.
The one of the most popular Aikatsu! themes was performed by Waka (Ichigo Hoshimiya singing voice), Fuuri (Aoi Kiriya singing voice), Sunao (Ran Shibuki singing voice) from STAR☆ANIS, and was originally released as a coupling song of the TV anime's first OP song "Signalize!" on November 21, 2012. It was used as the ED for the TV anime's first to 25th episodes, and 125th episode.
More details for the vinyl project will be revealed at the upcoming "Aikatsu!Series 5th Festival!!" to be held at Makuhari Messe on September 8 and 9, 2018.
"Signalize!" CD single jacket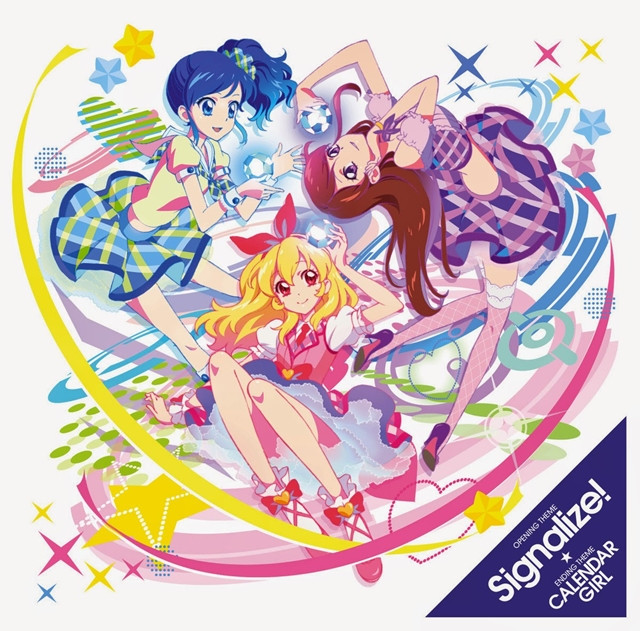 "Calendar Girl" Data Carddass arcade game version music video
"Aikatsu! Series 5th Festival!!" visual
【#アイカツ!シリーズ 5thフェスティバル!!】
2018年9月8・9日(土・日)幕張メッセ イベントホールにて開催!!
出演者第1弾を発表しました!只今より7/1迄、最速先行受付開始です!!出演者発表第2弾も近日予定♪(事業部S)
詳細→https://t.co/Y2d832LEk4
先行受付→https://t.co/xWval0hJtu pic.twitter.com/qmeBsgQQIh

— アイカツフレンズ!&アイカツ!&アイカツスターズ!アニメ公式 (@aikatsu_anime) 2018年6月14日
---
Meanwhile, all 78 theme and insert songs (album version) and 183 soudtrack music from the four seasons
of the first Aikatsu! TV anime aired in Japan from October 2012 to March 2016 are now available on major
digital music stores and via subscription services as listed below:
【#配信で聞くアイカツ!】ついに!「アイカツ!」の音楽をより多く方に届けるため、 STAR☆ANISとAIKATSU☆STARS!が歌う全ての【主題歌・挿入歌(初出CD収録バージョン)】と【背景楽曲】を7月11日(水)の本日よりダウンロード配信ならびに各サブスクリプションサービスで配信開始いたしました。 pic.twitter.com/wn1pkd2Slk

— アイカツフレンズ!&アイカツ!&アイカツスターズ!アニメ公式 (@aikatsu_anime) 2018年7月10日
Download
iTunes
Amazon Digital Music Store
Google Play Music
Dwango JP
music.jp
mora
Recochoku
Subscription
Apple Music
ANiUTa
Amazon Music Unlimited
AWA
Utapass
Google Play Music
KK BOX
Spotify
dHits
LINE MUSIC
Recochoku best
---
Source: Animate Times
(C)BNP/BANDAI, DENTSU, TV TOKYO
(C)2014 BNP/BANDAI, AIKATSU THE MOVIE
(C)2016 BNP/BANDAI, AIKATSU STARS THE MOVIE