Their TV anime OP song has become a digital gold single in Japan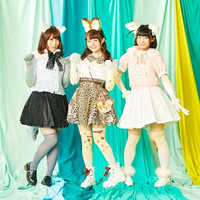 Following PPP's first album "PPP in The Sky!!" in April of this year, the Kemono Friends franchise's official music site announced on July 17 that its three-member voice actress unit Dobutsu Biscuits will release their first full album "Safari Drive♪" from Victor Entertainment on this year's World Animal Day, October 4. The unit consists of Yuka Ozaki (Serval), Kana Motomiya (Fennec), and Saki Ono (Araiguma/Common Raccoon).
In addition to the unit's newly recorded songs, the album also includes each member's solo songs. And its limited edition comes with a bonus drama CD performed by all members of Dobutsu Biscuits and PPP.
Along with PPP, Dobutsu Biscuits was originally formed for the Kemono Friends TV anime in late 2016 and performed the anime's OP theme song "Yokoso Japari Park he" (Welcome to The Japari Park).
The song was certificated Gold by The Recording Industry Association of Japan (RIAJ) with over 100,000
paid downloads, and the record company also confirmed that it was digitally purchased over 120,000 times.
Songs to be included in the album:
New song (1) by Dobutsu Biscuits
New song (2) by Dobutsu Biscuits
New song (3) by Dobutsu Biscuits
"Hop Step Friends" by Dobutsu Biscuits (from "Japari Café" album in June 2017)
"Fun Fun Melody♪" by Dobutsu Biscuits (from their 2nd single in December 2017)
"My Pace Chaser" by Common Raccoon and Fennec with Serval (from "Japari Café2" album in December 2017)
New solo song by Serval
New solo song by Fennec
New solo song by Common Raccoon
BONUS TRACK "Nandemi Iukoto wo Kiitekureru (she listens to whatever I say) Fennec"
10月4日「世界動物の日」にサーバル・フェネック・アライグマのユニット「どうぶつビスケッツ」がどったんばったんCDデビュー!
アルバム名は『さふぁりどらいぶ♪』、初回盤はPPPとのドラマCD付♪
早期予約で直筆サイン入りプラチナメッセージカードもGET!→https://t.co/hCNuYXYRit#けものフレンズ pic.twitter.com/nstd6vHlDo

— けものフレンズ@公式アカウント (@kemo_project) 2018年7月17日
---
"Yokoso Japari Park he" regular edition CD jacket
Doubutsu Biscuits members:
Serval: Yuka Ozaki (Ado Sukinanoka in We Are the Luck and Logic Club!)
Fennec: Kana Motomiya
Araiguma (Common Raccoon): Saki Ono (Hakone-chan in Onsen Yosei Hakone-chan)
PPP members:
Royal Penguin: Mikoi Sasaki (Hercule Barton in Milky Holmes)
Koutei (Emperor) Penguin: Ruka Nemoto (Yu Kashima in VENUS PROJECT -CLIMAX-)
Gentoo Penguin: Kyouka Tamura
Iwatobi (Rockhopper) Penguin: Aina Aiba
Humboldt Penguin: Ikuko Chikuta
Special OP song movie
Source: "Kemono Friends" project music site
(C) Kemono Friends Project
Copyright © JVCKENWOOD Victor Entertainment Corp. All rights reserved