"Recovery of an MMO Junkie", "Yamada-kun and the Seven Witches", and more head to Blu-ray and DVD in North America in October 2018.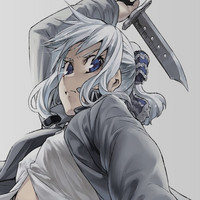 Crunchyroll and Funimation have teamed up to release collections of anime series on Blu-ray and DVD in North America. The newest slate of titles are now available for pre-order for release in October 2018. The new releases include:
Taboo Tattoo- BD/Fun Digital Standard Essentials Edition
A tattoo is an ancient weapon that enhances the physical ability of its user, known as a Sealed, allowing him to bring forth supernatural phenomena when activated by his own unique trigger. When Justice Akatsuka—a.k.a. Seigi—saves a man from some street punks, the man gives him a strange stone as a token of gratitude. The moment Seigi accepts it, a mysterious tattoo appears on his palm. And so the battle begins, framed by a web of conspiracies and centering around Justice Akatsuka—the boy who obtained a tattoo by complete chance.
91 Days - The Complete Series - BD/Fun Digital Essentials Edition
Prohibition—a lawless era where bootleggers prosper and mobsters prowl. In this murky world, blood is shed without regard or regret and for Angelo Lagusa, it's all he knows. After the Vanetti Mafia murders his family, Angelo is left alone, the burn of revenge just a flickering light until he receives a letter that holds the key to vengeance in the form of a hit list. But there's a catch—he'll have to get close to the Vanetti family by befriending the don's son, Nero. Working side-by-side with the future don, Angelo becomes Avilio Bruno, a loyal hired gun with a talent for pickpocketing and quick planning. As the days dwindle away, Avilio and Nero grow closer and the kill list gets shorter. But between two families at odds and every target on Nero's head, the two find themselves in a world of trouble. When it comes down to it, will Avilio—no, Angelo—pull the trigger on a man who considers him family?
Orange - The Complete Series - BD/Fun Digital Essentials Edition
What if you could write to the past? Second-year student Naho Takamiya thinks it's a joke when she receives a letter from her 26-year-old self, forewarning the tragic future of a boy named Kakeru. But the advice proves true when he transfers to her school—just like the letter predicted. As their lives intertwine, Kakeru's dark past keeps him from opening up to anyone, and every day becomes a challenge for Naho to change his future. Fortunately, she isn't all alone in her task. Surrounded by a close group of friends, there may be more hope than Naho expected. Will their combined efforts be enough to prevent the greatest regret of their lives?
JUNI TAISEN - The ZODIAC WAR - Season One BD/DVD/Fun Digital Essentials Edition
Eye of a tiger, head of a boar—there's plenty of death in store! Everyone, clap your hands! The time has come for the deadly Twelfth Juni Taisen Tournament to begin. In a barren city, twelve proud warriors will go head to head in a bloody battle royal for the sake of a single wish. Bearing the name of a zodiac animal, these fighters are far more terrifying than beasts, possessing their own special moves and motives. Ready to cut through anything and anyone for victory, they'll put more than pride on the line—but there could be more to this bloodbath than they could ever realize. From unlimited ammunition to raising the dead, the skills of these fighters will prove deadlier than anything they've ever faced, and only one lone champion will be left standing.
Yamada-kun and The Seven Witches - The Complete Series - Essentials - BD+Fun Digital
Suzaku High School has a big secret. One that punk student Ryu Yamada finds himself tangled in after a literal run-in with honor student Urara Shiraishi. The two find themselves in a bizarre body swap caused by…a kiss?! A convenient albeit weird new trick, the two keep switching places (and kissing!) until they're found out by student council member Miyamura. Rather than give them away, he has a better idea—reform the Supernatural Studies Club. A great cover up…except for the fact that Yamada keeps kissing everyone! Soon they learn they that aren't the only two with abilities. In fact, school legend speaks of seven witches—female students gifted with different powers. But when they start seeking out the witches, they find themselves in a situation more dangerous than expected. Secrets kept by the student council, the powers that lie with the witches, and the possibility of losing everyone he's grown close to—are the answers Yamada seeks worth the cost of everything he holds dear?
Recovery of an MMO Junkie - The Complete Series - BD/DVD/Fun Digital
Moriko Morioka is logging out of real life and into the online world of gaming! After a less than ideal experience working in the real world, Moriko is ready to give up. Tired of the day-to-day grind, she's giving in to the NEET lifestyle by devoting her time to the online game, Fruits de Mer. With this exciting fantasy world, her handsome character Hayashi, and a guild of devoted friends, her new life is set! But when Hayashi meets the sweet and cute Lily, Moriko falls into a complicated relationship. Even more so when the player behind Lily is the kind and good-looking salaryman, Yuta Sakurai. With new friends and a newfound love, Moriko is about to gain an epic amount of life experience!
NANBAKA Part 2 - BD/DVD Fun Digital
After the drama with Jyugo, it's time to set things back to easy mode. After all—this is a comedy anime! But before the boys of cell block 13 can get too comfortable, trouble begins to stir in Building 5. A powerful former guard, imprisoned for killing an inmate has suddenly escaped—along with some deadly allies. While the warden is out and the guards imprisoned, it's up to the group of goofs to figure out how to save the prison. But in their mission, they'll face unexpected trouble—like Nico's missing medicine, possessed guards, and a giant in a pig mask!
Making their way through the prison continues to unearth more secrets and dangers. Can the idiots survive Nanba or will they finally meet their end?
Re:ZERO - Starting Life in Another World - Season One Part Two - BD/DVD+Fun Digital
After suffering a humiliating beating and possibly ruining his relationship with Emilia, Natsuki Subaru begins acting rashly. Determined to be by her side once more, he does whatever it takes but the consequences are severe. Over and over he sees her dead, sees Rem completely wrecked until finally…he snaps. Repeatedly facing death, seeing everyone he cares about die—it finally takes its toll. Shoved into a corner, he must decide: does he give up or finally own up to his failures? Up against the legendary white whale and the evil Witch's Cult, Subaru will be forced to do whatever it takes to stop a dark, cold future where everyone he loves dies. But is his power to "Return by Death" enough to save everyone? Or does the darkness looming over him have other plans?