Its first two seasons are now available on Crunchyroll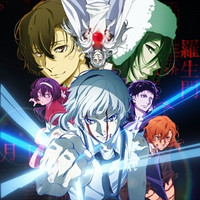 The official website and Twitter for the Bungo Stray Dogs anime franchise announced today on July 21 that its TV anime third season is now in the works. The news was also revealed at the revival screening event for its feature film Bungo Stray Dogs: Dead Apple held at the Marunouchi Piccadilly theater in Tokyo today. More details including its on-air schedule will be announced at a later date.
"[Breaking News] Thank you for coming to the Bungo Stray Dogs: Dead Apple revival screening event! Thanks to your support, the TV anime third season's production is decided! We appreciate your continued support for Bungo Stray Dogs!!"
【速報】文豪ストレイドッグスDEAD APPLE凱旋上映会、有難うございました!皆様の応援のおかげで、TVアニメ第3シーズン制作決定です!今後とも、文豪ストレイドッグスを宜しくおねがい致します!! #bungosd pic.twitter.com/mwEJfNiNN4

— アニメ「文豪ストレイドッグス」公式 (@bungosd_anime) 2018年7月21日
---
The TV anime adaptation of Kafka Asagiri and Sango Harukawa's action mystery manga Bungo Stray
Dogs were aired in Japan in two cours with a total of 24 episodes: the first cour in April-June 2016
and the second cour in October-December 2016. Then in August 2017, the TV anime's 25th episode
was released as an OVA, which was bundled with the limited edition of the manga's 13th volume.
And an all-new feature film Bungo Stray Dog: Dead Apple was released in Japan on March 3, 2018.
The first two cours of the TV anime are now available on Crunchyroll.
"Bungo Stray Dog: Dead Apple" poster visual
Source: "Bungo Stray Dogs" anime official website / Twitter
©2018 Kafka Asagiri, Sango Harukawa/KADOKAWA/Bungo Stray Dod DA Production Committee