Kaori (Yuyushiki)-directed original TV series is set to premiere in January 2019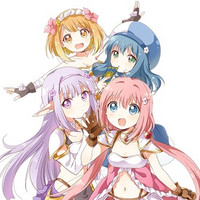 An official website and Twitter for the upcoming new original TV anime Endro~! open today, revealing an original character visual by Namori (Yuruyuri), a manga visual by Minami Idumi (Do You like Drinking Alcohol with Beautiful Woman?) , and an anime teaser visual by the anime's character designer Haruko Iizuka (Tamayura, School-Live!).
While no plot details and character descriptions are currently available, the tagline reads: "A slice-of-life fantasy, which did not seem possible until now, will begin!" The TV anime's premiere date is set for January 2019, and its manga adaptation by Idumi will also start serialization on Hobby Japan's free manga site Comic Fire this summer.
And official figures of the four main girls produced by AMAKUNI will be revealed for the first time at the Hobby Japan booth (Hall 2: d) in the Wonder Festival Summer 2018 event to be held at Makuhari
Messe on July 29.
TV anime main staff:
Director: Kaori (Yuyushiki, How to keep a mummy)
Series composition: Takashi Aoshima (Himouto! Umaru-chan, Aho-Girl)
Original character design: Namori (Yuruyuri manga)
Anime character design: Haruko Iizuka (Tamayura, School-Live!)
Anime production: Studio GOKUMI (Kin-iro Mosaic, Katana Maidens ~ Toji No Miko)
Produce: EGG FIRM
Original character visual by Namori
「えんどろ〜!」イラスト一挙公開!

なもり氏による原案イラストを公開致します!https://t.co/Ur2PajB7RP#えんどろ pic.twitter.com/nwU9fVF4r8

— TVアニメ「えんどろ〜!」公式 (@endro_anime) 2018年7月23日
Manga visual by Minami Idumi
「えんどろ〜!」イラスト一挙公開!

いづみみなみ氏によるコミックイラストを公開致します!https://t.co/Ur2PajB7RP#えんどろ pic.twitter.com/FAhTndD2Ym

— TVアニメ「えんどろ〜!」公式 (@endro_anime) 2018年7月23日
Anime teaser visual by Haruko Iizuka
「えんどろ〜!」イラスト一挙公開!

飯塚晴子氏によるアニメイラストを公開致します!
TVアニメ「えんどろ〜!」公式HPではキャラクター設定公開カウントダウンを開始!第1弾となるキャラクターPVはあと17日で公開します!お楽しみに〜!https://t.co/Ur2PajB7RP#えんどろ pic.twitter.com/dZvlQPaJGk

— TVアニメ「えんどろ〜!」公式 (@endro_anime) 2018年7月23日
Source: TV anime "Endro~!" official website/Twitter
©ERP/Endro~! Production Committee