Manga author praises Ayami Nakajo as Chitoge, "Her blond hair is so natural, she is impeccable!"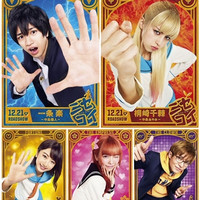 Following the 30-second first teaser, the official website for the upcoming live-action film adaptation of Naoshi Komi's love-comedy manga Nisekoi has posted individual visuals of its eight main cast members striking their poses.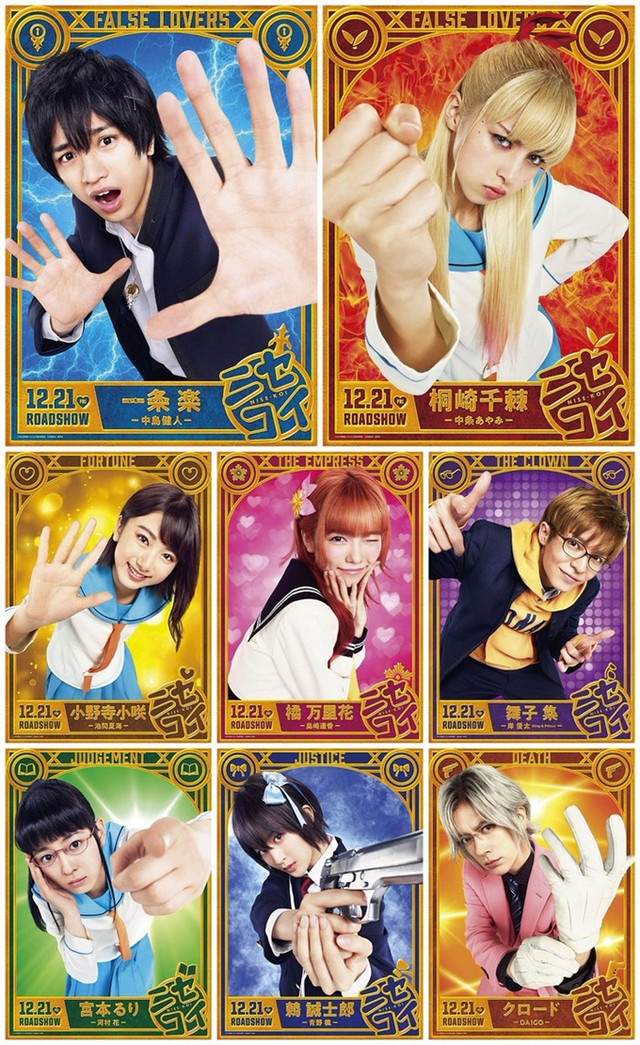 キャラクタービジュアル解禁しましたァアア‼‼

映画公式サイトでは
古味先生のコメント付きで掲載中‼https://t.co/X3MLRyBGLA#ニセコイ #映画ニセコイ pic.twitter.com/73QzukWxpS

— 映画『ニセコイ』公式アカウント (@nisekoi_1221) 2018年7月30日
Main Cast:
Raku Ichijo: Kento Nakajima (24/boy idol group Sexy Zone member)
Chitoge Kirisaki: Ayami Nakajo (21/Nino Arisugawa in Anonymous Noise)
Kosaki Onodera: Natsumi Ikema (15/ex-member of dance vocal unit Lollipop in Okinawa)
Marika Tachibana: Haruka Shimazaki (24/ex-AKB48 member)
Shu Maiko: Yuta Kishi (22/boy idol group King & Prince member)
Ruri Miyamoto: Hana Kawamura (17)
Seishiro Tsugumi: Kaede Aono (26/Motoko Kusanagi in Ghost in The Shell ARISE: GHOST is ALIVE)
Claude: DAIGO (40/rock band BREAKERZ vocalist)
---
The manga author Komi has already visited the film's set twice and highly praised the cast members'
portrayal as his manga characters. He posted his comment on Ayami Nakajo as the main heroine Chitoge
Kirisaki, "Her blond hair is so natural, she is impeccable! Her hair ends are very faithfully dyed in pink.
She unmistakably looks like Chitoge from any angles." He also loves Kento Nakajima as the protagonist
Raku, "His looks and atmosphere are exactly like Raku. Just as the meaning of his name (raku=
easy, relaxed), I can feel he enjoys playing the character by using various expressions, such as hengao
(strange face)!"
The official Twitter also celebrates Seishiro' birthday today on July 30, saying she is one of the
heroines no matter what people say.
Happy Birthday#鶫誠士郎

本日7月30日は
かっこよくてかわいい鶫誠士郎のお誕生日
誰が何と言おうと鶫はヒロインの1人です‼️‼️‼️

劇場版では #青野楓 さんが演じています‼️
是非お楽しみに#ニセコイ #映画ニセコイ#鶫誠士郎誕生祭2018 pic.twitter.com/IgkqGupW4S

— 映画『ニセコイ』公式アカウント (@nisekoi_1221) 2018年7月30日
---
The live-action film Nisekoi directed by 49-year-old Hayato Kawai (Kurosaki-kun no Iinari ni Nante Naranai)
is set to be released in Japan on December 21, 2018.
Teaser trailer
New teaser visuals
「恋人のフリ、はじめました♡」

   ↓↓↓↓↓↓

「恋人のフリ、ゼッタイ無理!!!」https://t.co/X3MLRyBGLA#ニセコイ #映画ニセコイ #中島健人 #中条あやみ pic.twitter.com/5yOldqtFFX

— 映画『ニセコイ』公式アカウント (@nisekoi_1221) 2018年7月23日
Source: "Nisekoi" live-action film official website/Twitter
© 2018 Movie "Nisekoi" Production Committee
© Naoshi Komi/Shueisha