Harumi Ichiryusai/Yoko Asagami, Tessho Genda and Mami Koyama are also confirmed to return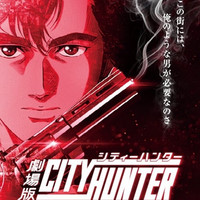 The official website for the upcoming all-new anime feature film based on Tsukasa Hojo's City Hunter action comedy manga series announced today that it is set to be released in Japan on February 8, 2019, and posted a new key visual and a 30-second teaser trailer featuring "Get Wild," the first ED theme for the TV anime series performed by TM Network.
New key visual with a tagline: "This town needs a man like me."
\「#劇場版シティーハンター」新ビジュアル解禁/
劇場版新ビジュアルが遂に解禁!!

そして、公開日は【2019年2月8日(金)】に決定

公式サイトも新ビジュアル仕様にリニューアル
▽こちらより是非チェックしてみてください▽https://t.co/zye0vTdydC#シティーハンター #CITYHUNTER #冴羽獠 pic.twitter.com/woW5kwftUJ

— アニメ「劇場版シティーハンター」公式 (@cityhuntermovie) 2018年8月1日
Teaser trailer
In addition to 71-year-old Akira Kamiya as the protagonist Ryo Saeba and 58-year-old Kazue Ikura as
the main heroine Kaori Makimura, three more voice cast from the previous anime series are also confirmed
to return:
Saeko Nogami: Harumi Ichiryusai/Yoko Asagami (66/Yuki Mori in Space Battleship Yamato)
Umibouzu: Tessho Genda (70/Convoy in The Transformers)
Miki: Mami Koyama (63/Arare Norimaki in Dr.Slump, Minky Momo in Magical Princess Minky Momo)
\オリジナルキャストが"奇跡"の再結集/#冴羽獠 役の #神谷明(@kamiyaakira29)、#槇村香 役の #伊倉一恵 に加え、人気キャラクターたちのキャストを発表

野上冴子:一龍斎春水(麻上洋子) @itiryusai
海坊主:玄田哲章
美樹:小山茉美#劇場版シティーハンター

— アニメ「劇場版シティーハンター」公式 (@cityhuntermovie) 2018年8月1日
68-year-old Kenji Kodama, who directed the first three TV series and the three films, is attached to
the new film project as general director, alongside two chief directors: Teruo Sato (Aikatsu Stars!) and
Takahiko Kyogoku (Love Live!). And instead of the three TV anime series' Sachiko Kamimura, Kumiko
Takahashi (Ouran High School Host Club, Snow White with the Red Hair) newly serves as anime character
designer. Of course, Sunrise, which produced the past anime series from 1987 to 1999 (four TV series
with 140 episodes, three TV specials and three films), again works on anime production.
Source: "City Hunter The Movie" official website/Twitter
(C)Tsukasa Hojo/NSP, "2019 Gekijyoban City Hunter" Production Committee