La anunciada adaptación televisiva del manga The Promised Neverland (Yakusoku Neverland) de Kaiu Shirai y Posuka Demizu ha estrenado imagen promocional vía su web oficial, además de revelar su equipo y reparto principal. La serie se estrenará en enero de 2019 en el bloque noitaminA de Fuji TV.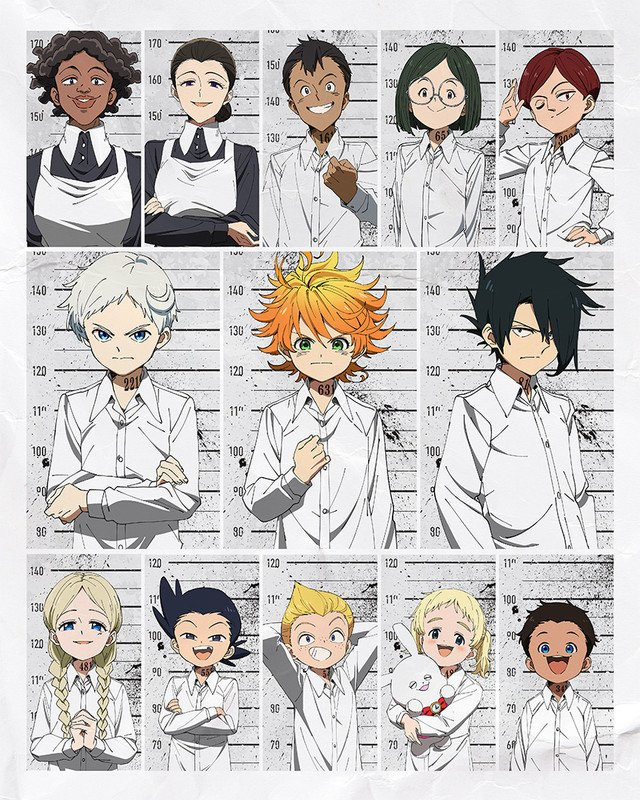 En el reparto estarán:
Sumire Morohoshi como Emma
Maaya Uchida como Norman
Mariya Ise como Ray
Mamoru Kanbe (Elfen Lied, The Perfect Insider) será el director bajo el estudio CloverWorks de A-1 Pictures. Toshiya Ono (Gatchaman Crowds, The Perfect Insider) será el responsable de supervisar los guiones, mientras que Kazuaki Shimada (Mahou Shoujo Nante Mouiidesukara) diseñará los personajes y Takahiro Obata compondrá la música.
Emma es una huérfana que vive en Grace Field House junto a otros niños de acogida, incluyendo a Norman y Ray, con quienes Emma consigue siempre las mejores puntuaciones en los exámenes diarios que deben hacer. Emma se percata de que aunque pueden hacer lo que quieran, lo que no les permiten es ir más allá de la puerta que conecta la casa con el mundo exterior. Una noche Conny, uno de los huérfanos, es enviado fuera para ser adoptado y Emma se da cuenta de que el niño se ha dejado a su querido conejito Bernie. Cuando Emma parte junto a Norman y a Ray a llevarle el conejo al niño, descubren que Conny ha muerto y que la casa es en realidad una granja donde los crían para luego cosecharlos y ser alimento de unas criaturas demoníacas. Además, la mujer que los cuida, Isabella, es la que tiene el acuerdo con los demonios. Ahora los niños tendrán que avisar al resto y trazar un plan para escapar de ese lugar.
Shirai y Demizu lanzaban el manga en las páginas de la Weekly Shonen Jump en agosto de 2016 y su décimo tomo recopilatorio se puso a la venta este 3 de agosto. La obra cuenta de momento con 4,2 millones de copias impresas.
Fuente: Moetron