Akira Oguro (Generator Gawl character designer) makes his TV anime directorial debut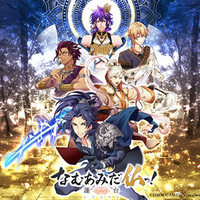 DMM GAMES held a presentation for its new project Namuamidabutsu! -Utena- at Tokoji Temple (Soutou school) in Saitama Prefecture on August 8 and announced that the project will also include a TV anime based on the game, which is scheduled to premiere in 2019.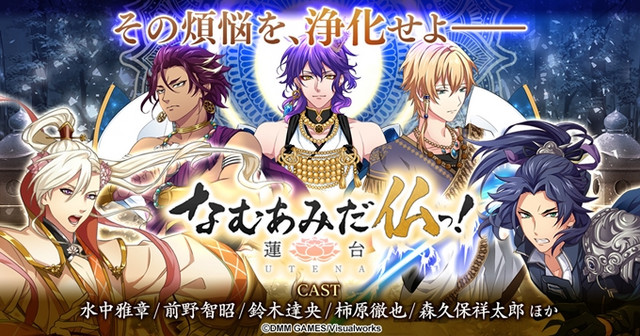 Namuamidabutsu! -Utena- is a battle RPG that is set to begin its service for browser, iOS and Android
this winter. DMM GAMES has already started accepting pre-registration for the game on the game's
official website.
The story tells the battles between Mara, the demon who once tried to disturb Buddha's enlightenment,
and a Buddhist organization "13 Buddha" headed by Buddha himself and supported by two Goho zenjin
(good deities protecting dharma), Taishakuten/Śakra and Bonten/Brahmā in the modern-day world.
Akira Oguro, who is known as the character designer for the 1998 TV anime Generator Gawl and the
Final Fantasy game franchise, makes his TV anime directorial debut at Asashi Production (Omae wa
Mada Gunma o Shiranai). Erika Yoshida (Tiger&Bunny, Touken Ranbu - Hanamaru-) serves as series
composition writer. The game's main voice cast will also play their characters in the anime as well.
Game 1st PV
TV anime teaser PV
---
Taishakuten/Śakra: Masaaki Mizunaka (Diablo in How Not to Summon a Demon Lord)
キャラクター情報公開
「帝釈天(たいしゃくてん)CV:水中雅章」
その昔「強力な神々の帝王」とも呼ばれ、天部最強の力を持つ。

帝釈天「煩悩を衆生から追い払い、堂守の日常を必ず取り戻す」

水中雅章さんも出演する生放送はこちらhttps://t.co/mX3H0JYht0#なむあみうてな #水中雅章 pic.twitter.com/qGuzSCKTGJ

— 【公式】なむあみだ仏っ!-蓮台 UTENA- (@namuamiutena_PR) 2018年8月3日
Bonten/Brahmā: Tomoaki Maeno (Hiro Hayami in King of Prism)
なむあみキャラクター情報公開
「梵天(ぼんてん)CV:前野智昭」
冷静沈着な合理主義者。忠実な配下として釈迦如来を支える。

梵天「お釈迦様を支えることが、私に課せられた仕事だ」

なむあみうてな生放送はこちらhttps://t.co/mX3H0JYht0#なむあみうてな #前野智昭 pic.twitter.com/Vqf7TembeG

— 【公式】なむあみだ仏っ!-蓮台 UTENA- (@namuamiutena_PR) 2018年8月3日
Asura-oh/Asura: Tatsuhisa Suzuki (Makoto Tachibana in Free!)
なむあみキャラクター情報公開
「阿修羅王(あしゅらおう)CV:鈴木達央」
群れることを良しとせず、ただひたすらに己の正義を実現すべく行動する。

阿修羅王「俺は俺のさだめに従うだけだ」

なむあみうてな生放送はこちらhttps://t.co/mX3H0JYht0#なむあみうてな #鈴木達央 pic.twitter.com/y8Cg4MK6B6

— 【公式】なむあみだ仏っ!-蓮台 UTENA- (@namuamiutena_PR) 2018年8月4日
Shaka Nyorai/Gautama Buddha: Showtaro Morikubo (Yusuke Makishima in Yowamushi Pedal)
なむあみキャラクター情報公開
「釈迦如来(しゃかにょらい)CV:森久保祥太郎」
衆生を救うため、仏たちの中心となって煩悩との戦いをまとめる。

釈迦如来「仏の顔も三度までだよ」

なむあみうてな生放送はこちらhttps://t.co/mX3H0JYht0#なむあみうてな #森久保祥太郎 pic.twitter.com/tftqtHikBh

— 【公式】なむあみだ仏っ!-蓮台 UTENA- (@namuamiutena_PR) 2018年8月4日
Dainihi Nyorai/Vairocana: Tetsuya Kakihara (Natsu Dragneel in Fairy Tail)
あむあみキャラクター情報公開
「大日如来(だいにちにょらい)CV:柿原徹也」
全宇宙の創造主であり、宇宙そのものであるとされる存在。

大日如来「オレ様は宇宙の真理!つまりオレ様が宇宙だ!」

なむあみうてな生放送はこちらhttps://t.co/CTnPds5RQA#なむあみうてな #柿原徹也 pic.twitter.com/nnyAc1DU4m

— 【公式】なむあみだ仏っ!-蓮台 UTENA- (@namuamiutena_PR) 2018年8月5日
Monju Bosatsu/Manjushri: Ryuichi Kijima (Mitsuki in Boruto - Naruto Next Generations)
なむあみキャラクター情報公開
「文殊菩薩(もんじゅぼさつ)CV:木島隆一」
学業向上や合格祈願で有名な、智慧を司る学問の仏。

文殊菩薩「僕は釈迦如来様の脇侍、娑婆の言葉では釈迦三尊と言います」

木島隆一さん出演の生放送はこちらhttps://t.co/CTnPds5RQA#なむあみうてな #木島隆一 pic.twitter.com/wGGkzCiQZC

— 【公式】なむあみだ仏っ!-蓮台 UTENA- (@namuamiutena_PR) 2018年8月5日
Fudou Myouou/Acala: Kengo Kawanishi (Mikazuki Augus in Mobile Suit Gundam: Iron-Blooded Orphans)
なむあみキャラクター情報公開
「不動明王(ふどうみょうおう)CV:河西健吾」
五大明王の中心となる明王で、大日如来の化身。

不動明王「邪気を払い、人の道を正す。それがオレの役目だ!」

なむあみうてな生放送はこちらhttps://t.co/mX3H0JYht0#なむあみうてな #河西健吾 pic.twitter.com/RLQkgFsBAQ

— 【公式】なむあみだ仏っ!-蓮台 UTENA- (@namuamiutena_PR) 2018年8月6日
Fugen Bosatsu/Samantabhadra: Shun Horie (Satou Pendragon in Death March to the Parallel World Rhapsody)
なむあみキャラクター情報公開
「普賢菩薩(ふげんぼさつ)CV:堀江瞬」
仏の慈悲と理知を顕して人々を救う仏。

普賢菩薩「オレは釈迦如来様の筆頭脇侍だ。文殊はその次」

なむあみうてな生放送はこちらhttps://t.co/mX3H0JYht0#なむあみうてな #堀江瞬 pic.twitter.com/O6HQbHC9jG

— 【公式】なむあみだ仏っ!-蓮台 UTENA- (@namuamiutena_PR) 2018年8月6日
Source: "Namuamidabutsu! -Utena-" official website/Twitter, DMM GAMES press release
© DMM GAMES / Visualworks