The 3,000-15,500 yen tickets are already almost sold out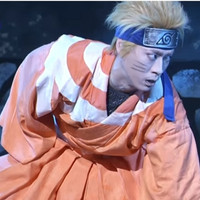 Shochiku's official YouTube channel has started streaming a 60-second highlight clip from the ongoing kabuki stage play adaptation of Masashi Kishimoto's ninja action manga Naruto, introducing its main cast, including Bando Minosuke II (28) as Naruto Uzumaki and Hayato Nakamura (24) as Sasuke Uchiha. The clip also features the play's theme song "Tenjyou no Kanata" (Beyond the Heaven) provided by eight-member Japanese rock band Wagakki Band.
The first kabuki play adaptation of the manga is scheduled to be performed at Shinbashi Enbujo in Tokyo from August 4 to 27, 2018, twice in a day at 11:00 and 16:30. Its 3,000-15,500 yen tickets are already almost sold out.
Highlight video
Cast:
Naruto Uzumaki: Bando Minosuke II
Sasuke Uchiha: Hayato Nakamura
Jiraiya: Enya Ichikawa II
Tsunade: Emiya Ichikawa II
Orochimaru: Emisaburo Ichikawa III
Kakashi Hatake: Noritoshi Kashima
Sakura Haruno: Umemaru Nakamura
Itachi Uchiha: Hidekazu Ichinose
Madara Uchiha: Ennosuke Ichikawa IV/Ainosuke Kataoka VI (double cast)
劇場前には超巨大な看板が御目見得!!
岸本斉史先生の描き下ろしイラスト、今回のメインビジュアル、2つを使用した看板です。
劇場前で記念撮影をどうぞ!#ナルト #新作歌舞伎 #坂東巳之助 #中村隼人 #岸本斉史 #NARUTO pic.twitter.com/cfKpbAYitR

— 新作歌舞伎『NARUTO -ナルト-』公式 (@narutokabuki) 2018年8月4日
---
Latest CM
</p>
Video message from Bando Minosuke II (Naruto Uzumaki)
Hayato Nakamura (Sasuke Uchiha)
Ennosuke Ichikawa IV (Madara Uchiha)
Ainosuke Kataoka VI (Madara Uchiha)
Source: "Naruto" kabuki play official website
© Masashi Kishimoto, Scott / Shueisha Inc.