Tickets for the 31 shows in Tokyo and Osaka are already almost sold out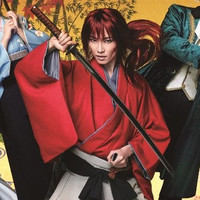 The official website for the upcoming new stage play adaptation of Nobuhiro Watsuki's action jidaigeki manga series Rurouni Kenshin has posted a main flyer visual featuring its nine main cast, including ex-Takarazuka top star Seina Sagiri as the protagonist Kenshin Himura and Mitsuru Matsuoka (Katsumi Daidoh/Kamen Rider Eternal in Kamen Rider W Forever: A to Z/The Gaia Memories of Fate) as the play's original character Sozaburo Kanou, who is an ex-member of Shinsengumi.
The character Kanou didn't appear in Watsuki's original manga story and first appeared in Takarazuka Revue's musical adaptation of the manga in 2016, also starring Sagiri. In the 2016 play, the character was portrayed by Takarazuka star Fuuto Nozomi.
The new play is set to be performed at Shinbashi Enbujo in Tokyo from October 10 to November 7
and Osaka Shochikuza in Osaka from November 15 to 24. Tickets have been available at major ticket
agencies since July 28, but most of them have been already sold out.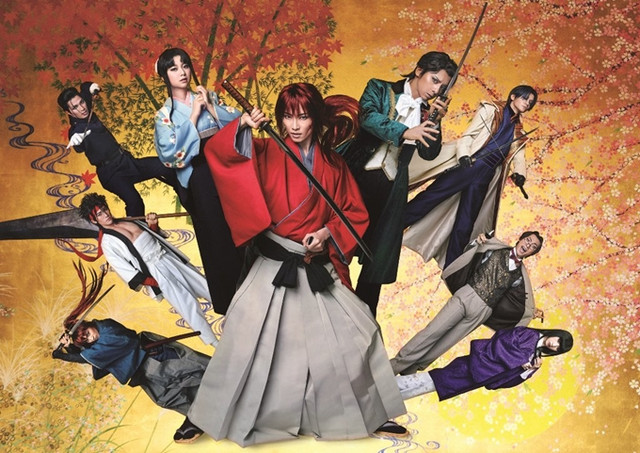 #新橋演舞場 #大阪松竹座 #浪漫活劇『#るろうに剣心』
本チラシビジュアル公開#新橋演舞場 #大阪松竹座 #浪漫活劇 #るろうに剣心 #小池修一郎 #早霧せいな #上白石萌歌 #松岡充 #廣瀬友祐 #三浦涼介 #植原卓也 #愛原実花 #松岡広大https://t.co/RedAUAVFsn pic.twitter.com/sjQvNxLgVu

— 浪漫活劇『るろうに剣心』公式アカウント (@ruroken_stage) 2018年8月10日
PR video featuring photos sessions for character visuals
New poster visual featuring Seina Sagiri as the protagonist Kenshin Himura
#新橋演舞場 #大阪松竹座 #浪漫活劇『#るろうに剣心』
ビジュアル第1弾公開‼️ https://t.co/pv7ngSNLnS#早霧せいな #緋村剣心 pic.twitter.com/LQLxvYNAdF

— 浪漫活劇『るろうに剣心』公式アカウント (@ruroken_stage) 2018年7月19日
Main cast:
Kenshin Himura: Seina Sagiri
Kaoru Kamiya: Moka Kamishiraishi (Kiki in the Kiki's Delivery Service musical)
Hajime Saito: Yusuke Hirose (Gin Ishida in The Prince of Tennis musical)
Aoshi Shinomori: Ryosuke Miura (Ankh/Shingo Izumi in Kamen Rider OOO)
Sanosuke Sagara: Takuya Uehara (Kenya Oshitari in The Prince of Tennis Musical)
Sozaburo Kanou: Mitsuru Matsuoaka (Kastumi Daodoh/Kamen Rider Eternal in Kamen Rider W)
Battousai Himura (Kenshin's shadow): Koudai Matsuoka (Naruto Uzumaki in Live Spectacle Naruto)
Kanryusai Takeda: Ryuji Kamiyama (Romio in Musical Air Gear)
Megumi Takani: Mika Aihara (ex-Takarazuke musume-yaku top star)
---
Press conference at Imperial Hotel in Tokyo on June 27
Source: "Rurouni Kenshin" stage play official website/Twitter
© Shochuku, Umeda Arts Theater, Nobuhiro Watsuki/Shueisha