45-year-old actor/singer GACKT portrays a 18-year-old high school boy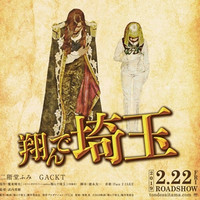 Toei's official YouTube channel has started streaming a 30-second teaser for the upcoming live-action film adaptation of Mineo Maya (Patarillo!)'s comedy manga in the 1980s, Tonde Saitama. The clip announces that the Hideki Takeuchi (Nodame Cantabile, Thermae Romae)-directed film is set to be released in Japan on February 22, 2019, and that 28-year-old Ryo Kato, who played the protagonist Patalliro du Malyner VIII in the two stage play adaptations of Maya's Patarillo! in 2016 and 2018, joins the film as a native of Saitama Prefecture.
As reported, 45-year-old singer/actor GACKT and 23-year-old actress Fumi Nikaidou (Wolf Girl and Black Prince live-action film in 2016) are set to star as high school student characters.
Teaser trailer
Teaser visual (via: Movie Natalie) with a tagline "We apologize for the people of Saitama Prefecture for making this film."
映画化してゴメンなさい、二階堂ふみ×GACKT「翔んで埼玉」特報 #二階堂ふみ #GACKT #翔んで埼玉 https://t.co/3tHuNIOasz pic.twitter.com/5IcPoNDgVX

— 映画ナタリー (@eiga_natalie) 2018年8月16日
---
The three-part manga was originally published in Hakusensha's Hana to Yume magazine from 1982
to 1983, then compiled in one-volume tankobon, and didn't achieved much success at the time.
30 years after, it suddenly started gaining internet buzz, and Takarajimasha released its reprint edition
in 2015. Even more surprisingly, it has printed over 300,000 copies so far, which was ten times more
than originally planned.
The story is set in a fictional Japan where people are discriminated according to their birthplace and
residence. Saitama Prefecture is particularly criticized by the people in Tokyo. One day, a mysterious
male student named Rei Asami transfers to Hakuhoudou Academy, a prestigious high school in Tokyo,
from America. Momomi Hakuhoudou, the male president of the school's student council and the grandson
of the director of the school, is gradually attracted by him. However, Rei's secret origin that he was
born in Saitama is accidentally revealed. He returns to Saitama to join resistance movement to eliminate
discrimination against Saitama citizens. When Momomi learns that a powerful politician tries to destroy
Rei's resistance group, he decides to go to Saitama to inform Rei of the danger.
45-year-old GACKT is set to play 18-year-old Rei Asami
Fumi Nikaidou plays her first male role, Momomi Hakuhoudou
"Tonde Saitama" reprint edition cover
via: Movie Natalie
(c) Mineo Maya "Kono Manga ga Sugoi! comics Tonde Saitama"/Takarajimasha