Toei Animation works on anime production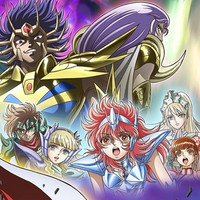 The official website for the upcoming anime adaptation of Chimaki Kuori's Saint Seiya: Saintia Shō manga opens today, announcing its December 2018 premiere on ANIMAX on PlayStation and four main voice cast: Aina Suzuki as Shoko/Equuleus Sho, M.A.O as Kyoko/Equuleus Kyoko, Inori Minase/Saori Kido, and Megumi Nakajima as Mii/Dolphin Mii. Suzuki, M.A.O and Minase reprise their roles in the CD drama released in December 2015, while Nakajima is newly cast as Mii in place of the Drama CD's Pile.
Main voice cast:
Shoko/Equuleus Sho: Aina Suzuki (Mari Ohara in Love Live! Sunshine!!)
Kyoko/Equuleus Kyoko: M.A.O (Hinako Sakuragi in Hinako Note)
Saori Kido: Inori Minase (Rem in Re:Zero − Starting Life in Another World)
Alicia Mii Benethol/Dolphin Mii: Megumi Nakajima (Ranka Lee in Macross Frontier)
Toei Animation, which produced most of the Saint Seiya anime in the past, works on anime production.
【新作情報】
聖闘士星矢新プロジェクト「聖闘士星矢 セインティア翔」サイトオープン!久織ちまき先生&キャストコメントも到着! https://t.co/XbGF2wb7py
ANIMAX on PlayStation®︎にて12月配信予定!
#聖闘士星矢 #セインティア翔 #鈴木愛奈 #M・A・O #水瀬いのり #中島愛 pic.twitter.com/7PoTr6kno5

— 東映アニメーション公式 (@toeianime_info) 2018年8月18日
---
As a female character-oriented spin-off to Masami Kurumada's classic Saint Seiya manga series, Saint Seiya:
Saintia Shō has been serialized in Akita Shoten's Champion Red since its October 2013 issue and has so far
released 11 tankobon volumes.
Its English edition has been published by Seven Seas Entertainment. The publisher introduces the story
as below:
In the wake of a space-wide civil war instigated by Saga–the Gemini Gold Saint–a new team of Saints
comes together with the goal of protecting their goddess Athena. This first all-woman team of armored
warriors, powered by the Zodiac, will use their cunning, strength, and compassion to defend their worlds
and oppose their very destinies. Mangaka Chimaki Kuori is also known for working on manga for Gundam
Seed and the Persona series.
Manga tankobon 1st and 11th volume covers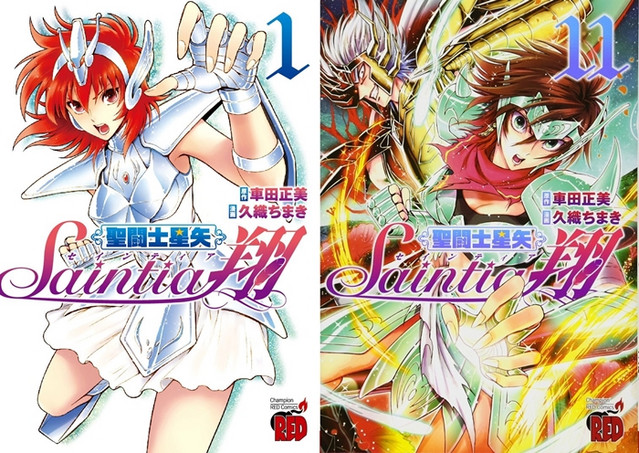 Source: TV anime "Saint Seiya: Saintia Shō" official website, Toei Animation official Twitter
©Masami Kurumada, Chimaki Kuori/Akita Shoten, Toei Animation