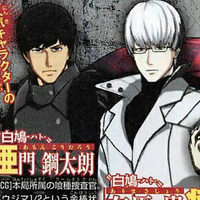 El último número de la revista V-Jump nos deja más detalles de Tokyo Ghoul:re Call to Exist.
Los jugadores se enfrentarán a un título de supervivencia donde en el que tendrán que ir moviéndose entre diferentes zonas hasta alcanzar el punto objetivo del mapa. Cada zona estará repleta de enemigos que atacarán a los jugadores con diferentes tácticas, aunque el combatirlos o huir será decisión del jugador, abriendo estas decisiones el camino a seguir.
Ya se había confirmado que el juego contará con personajes de Tokyo Ghoul, Toyko Ghoul √A y Tokyo Ghoul: re, mostrando la revista a Koutarou Amon, Kishou Arima, Ken Kaneki, Touka Kirishima y Shuu Tsukiyama.
Tokyo Ghoul:re Call to Exist se lanzará en invierno en las PlayStation 4 japonesas, teniendo confirmada su llegada a occidente en versiones para PlayStation 4 y PC en una fecha todavía por determinar.
Fuente: Gematsu