Yasuhito Kikuchi (Comet Lucifer, Infinite Stratos)-directed adaptation will be simulcasted on Crunchyroll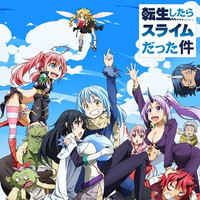 A new life as a slime monster will begin soon. The official website for the upcoming TV anime adaptation of Fuse's fantasy light novel series Tensei Shitara Slime Datta Ken/That Time I Got Reincarnated as a Slime announced today that it is set to premiere on TOKYO MX, BS11, and tvk on October 1, then on MBS one day later.
Crunchyroll already announced at its industry panel in Anime Expo 2018 that it would simulcast the TV anime this fall. Further details will be announced at a later date.
【放送情報発表!】
2018年10月1日(月)よりTVアニメ『転生したらスライムだった件』放送開始!

TOKYO MX 10/1(月) 24:00~
BS11 10/1(月) 24:00~
tvk 10/1(日) 25:00~
MBS 10/2(火) 27:30~https://t.co/n1PwkPA3zm

宣伝T#転スラ pic.twitter.com/pKKnNXXjAo

— 【公式】TVアニメ『転生したらスライムだった件』 (@ten_sura_anime) 2018年8月25日
---
1st PV
Key visual
【メインビジュアル第1弾&メインキャスト発表!】

▼CAST
リムル:岡咲美保
大賢者:豊口めぐみ
ヴェルドラ:前野智昭
シズ:花守ゆみり
ベニマル:古川慎
シュナ:千本木彩花
シオン:M・A・O
ソウエイ:江口拓也
ハクロウ:大塚芳忠
ミリム:日高里菜https://t.co/n1PwkPA3zm

宣伝T#転スラ pic.twitter.com/RKPmlHvlQs

— 【公式】TVアニメ『転生したらスライムだった件』 (@ten_sura_anime) 2018年6月8日
Main Voice Cast:
Rimuru Tempest: Miho Okasaki (Mirai Nishio in Ongaku Shoujo)
Great Sage/Daikenjya: Megumi Toyoguchi (Winry Rockbell in Fullmetal Alchemist)
Veldra: Tomoaki Maeno (Camus in Uta no Prince-sama)
Shizu: Yumiri Hanamori (Zero in Grimoire of Zero)
Benimaru: Makoto Furukawa (Saitama in One-Punch Man)
Shuna: Sayaka Senbongi (Mumei in Kabaneri of the Iron Fortress)
Shion: M.A.O (Hinako Sakuragi in Hinako Note)
Souei: Takuya Eguchi (Takeo Gouda in My Love Story!!)
Hakurou: Hochu Ohtsuka (Yazan Gable in Mobile Suit Zeta Gundam)
Milim: Rina Hidaka (Ako Tamaki in And you thought there is never a girl online?)
Reguldo: Kanehiro Yamamoto (Kuruto in Gundam Build Divers)
Wriggle: Haruki Ishiya (Shuichi Tsukamoto in Sound! Euphonium)
Gobuta: Asuna Tomari (Ryuou Edogawa in Doreiku The Animation)
Ranga: Chikahiro Kobayashi (Saichi Sugumoto in Golden Kamuy)
Kaijin: Atsuhi Ono (Blitz Talker in Re:Creators)
Trainee: Rie Tanaka (Lacus Clyne in Mobile Suit Gundam Seed)
Mirim: Rina Hidaka ( Silica/Keiko Ayano in Sword Art Online)
Main Staff:
Director: Yasuhito Kikuchi (Comet Lucifer, Infinite Stratos)
Sub Director: Atsushi Nakayama (Absolute Duo, Comet Lucifer)
Series Composition: Kazuyuki Fudeyasu (Black Clover, Girls' Last Tour)
Character Designer: Ryoma Ebata (Magical Warfare, Busou Shinki)
Monster Designer: Takahiro Kishida (Welcome to the Ballroom, Haikyu!!)
Music: Elements Garden (Senki Zessho Symphogear, Uta no Prince-sama)
Anime Production: 8-bit (Infinite Stratos, Knight's & Magic)
---
Source: TV anime "Tensei Shitara Slime Datta Ken" official website, Twitter
© Taiki Kawakami, Fuse, Kodansha/TenSura Production Committee
© 2018 KICK-ASS, Ltd./© 2018 Gamegate, Inc.