La serie se estrenará en octubre.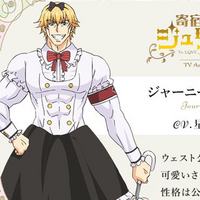 La web oficial de la adaptación televisiva animada del manga Kishuku Gakko no Juliet de Yosuke Kaneda sigue revelando voces para su reparto, anunciando esta vez que Takanori Hoshino será la voz de Journey Rex.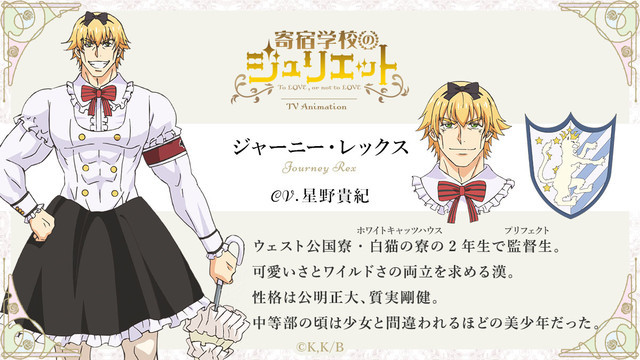 Se unirá así al reparto anteriormente anunciado:
Yuuki Ono como Romio Inuzuka
Ai Kayano como Juliet Percia
Ayane Sakura como Hasuki Komai
Yu Shimamura como Chartreux Westia
Rina Hidaka como Kocho
Yui Ogura como Teria
Hiroshi Kamiya como Scott Fold
Tomokazu Sugita como Chizuru Maru
Yoshimasa Hosoya como Tosa
Hiro Shimono como Kohitsuji
Shinnosuke Tachibana como Aby Ssinia
Eri Kitamura como Somali Longhaired
Kazuyuki Okitsu como Cait Sith
Uesaka como Anne Sieber
La serie se estrenará en octubre en los canales MBS, TBS y BS-TBS dentro del bloque Animeism. Su emisión online se producirá vía Amazon Premium Video en exclusiva tanto en Japón como en el resto del mundo.
Seiki Takuno (Yamada-kun and the Seven Witches, Poco's Udon World) se encargará de dirigir el anime bajo LIDEN FILMS. Fumiaki Usui (Poco's Udon World, Sekko Boys) será el director asistente, mientras que Takao Yoshioka(Working!! 2) se encargará de supervisar y escribir los guiones. Yuki Morimoto (Miss Monochrome) será el diseñador de personajes, mientras que la músicawondrá Masaru Yokoyama (Your Lie in April).
Otros miembros del equipo serán:
Arte: Tomoyuki Aoki, Yukie inose
Dirección de arte: Yukihiro Saito
Diseño de color: Hironori Nochi
Dirección de fotografía: Hitoshi Tamura
Edición: Masato Yoshitake
Dirección de sonido: Yota Tsuruoka
Efectos de sonido: Eiko Morikawa
El opening lo pondrá fripSide con "Love with You", mientras que Riho Iida se encargará del ending con el tema "Itsuka Sekai ga Kawaru Made".
La historia está protagonizada por dos estudiantes de dos naciones diferentes que van a la Academia Dahlia, donde surge un amor prohibido entre ambos. En la residencia de la Nación Towa está Romio Inuzuka, y en la residencia del Principado del Oeste, reside su amada y enemiga, Juliet Percia. Todo dará comienzo cuando Romeo se juegue la vida en su declaración de amor.
Kaneda lanzaba el manga en las páginas de la Bessatsu Shonen Magazine en 2015, pasando a las páginas de la Weekly Shonen Magazine en 2017. Su octavo tomo recopilatorio se puso a la venta el 15 de junio. El pasado año la obra obtenía una nominación en la 41.ª entrega de los Premios Manga Kodansha.
Fuente: ANN