Weekly Shonen Jump will reveal its details in October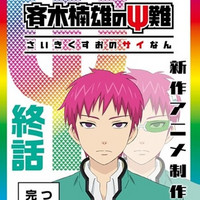 A teaser visual for the next anime based on Shuichi Asou's The Disastrous Life of Saiki K. comedy manga is revealed to Japanese media today. The visual featuring the protagonist Kusuo Saiki without the device on his head to control his psychic power and his green colored glasses that prevents his gaze from turning people into stone suggests that the next one will be the anime series' final chapter. Kusuo says, "It will be finally concluded..."
Teaser visual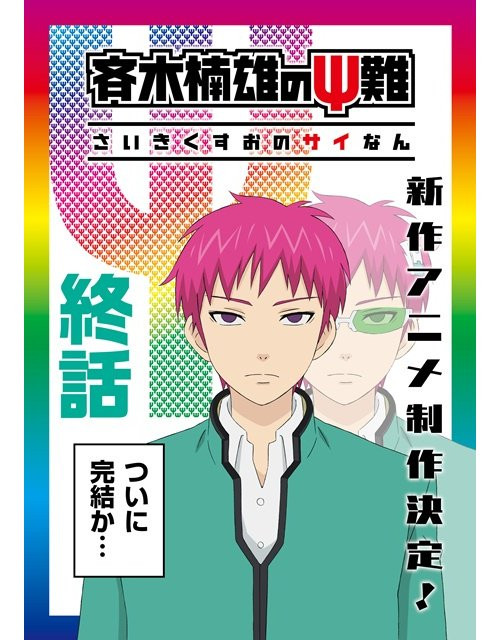 皆様、続報をお待たせしました!アニメ「斉木楠雄のΨ難」新作が制作決定!今回は…いよいよ完結編!ティザービジュアルの楠雄には、トレードマークの頭の制御装置と緑色メガネが無い!?果たして…!?本日発売『週刊少年ジャンプ』の記事も要チェック!さらなる続報は10月をお待ちくだΨ![SP]#斉Ψ #新作 pic.twitter.com/9Gd8FDLzlq

— アニメ「斉木楠雄のΨ難」公式アカウント (@saikikusuo_PR) 2018年9月3日
The GG FIRM×J.C.STAFF-animated TV anime first season was aired for 24 episodes from July to
December 2016, then the second season followed with another 24 episodes from January to June
2018. Production of the new anime was teased in the second season's last 24th episode aired on
June 27.
Details of the final chapter will be revealed in Weekly Shonen Jump in October. Then more information
are expected to be told at the special event for the TV anime second season to be held at BelleSalle
Takadanobaba in Tokyo on December 1, 2018. Seven main voice cast from the anime: Hiroshi Kamiya
(Kusuo Saiki), Daisuke Ono (Riki Nendou), Nobunaga Shimazaki (Shun Kaido), Satoshi Hino (Kineshi
Hairo), Natsuki Hanae (Reita Toristuka), Mitsuo Iwata (Kuniharu Saiki), and Yuki Kaji (Touma Akechi)
are scheduled to join.
---
via: Animate Times
© Shuishi Asou/Shueisha, PK Academy 2