"The Seven Deadly Sins the Movie" quickly disappears from the top 10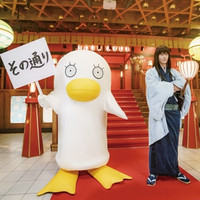 Even in its third weekend of release, Gintama 2: Okite wa Yaburu tame ni koso Aru (The Rule is surely there to be broken), the second live-action film based on Hideaki Sorachi's manga series, was still doing a steady business. The Shun Oguri-starring comedy earned a satisfactory 308 million yen on 256,000 admission in the weekend of September 1-2, keeping the second position in the weekend top 10.
By the last weekend of Japan's summer holiday period, Gintama 2 had made 2.4 billion yen from the 1.88 million ticket sales, which was 100 million yen more than the first film's first three-week gross. If the sequel can keep up its strong pace for a few more weeks, it could surpass the first's total box office record of 3.84 billion yen and increase a possibility for the third one. However, Japan's summer holiday period has already ended. Considering the fact that the film's main audience is young generation, mainly students, it may be difficult to expect the same pace as the first that was
released in the middle of July last year?
This weekend's new wide-released anime film, Studio Voln-animated I Want to Eat Your Pancreas, based
on Yoru Sumino's top-seller novel, ranked a so-so 10th. Meanwhile, after ranking fifth in its first weekend
and 10th in its second, The Seven Deadly Sins the Movie: Prisoners of the Sky, an all-new anime feature
film adaptation of Nakaba Suzuki's fantasy action manga, quickly disappeared from the top 10 in its third
weekend. Its current total box office gross is unknown.
---
Weekend box office in Japan (September 1-2, 2018)
(ticket sales basis)
1 (1). "Killing for Prosecution"
2 (2). "Gintama 2: Okite wa Yaburu tame ni koso Aru"
3 (new). "Ant-Man and the Wasp"
4 (3). "Gekijyo-ban Code Blue ~ Dr Heli Kinkyuu Kyuumei ~"
5 (4). "Incredibles 2"
6 (6). "Camera wo Tomeruna!" (Don't Stop The Camera!)
7 (new). "SUNNY Tsuyoi Kimochi, Tsuyoi Ai"
8 (5). "Mission: Impossible - Fallout"
9 (7). "Mamma Mia! Here We Go Again"
10 (new). "I Want to Eat Your Pancreas"
Source: Eiga.com
(C)Hideaki Sorachi/Shueisha
(C)2017 Movie "Gintama" Production Committee