Illustrations are confirmed to be drawn by the original illustrator Yoshikazu Yasuhiko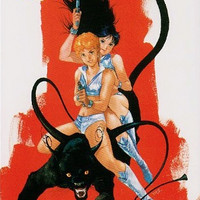 66-year-old Japanese novel author Haruka Takachiho has announced on his official Twitter account that Dirty Pair no Daichouyaku (Dirty Pair's Big Jump), the long-awaited eighth volume of his long-running Dirty Pair sci-fi action novel series, is scheduled to be released from Hayakawa Publishing before the end of this year. It has been 11 years since the last seventh volume Dirty Pair no Daiteikoku (Dirty Pair's Great Empire) was published in Japan in October 2007.
Takachiho also confirmed that illustrations for the new volume are drawn by the original illustrator Yoshikazu Yasuhiko, who has been attached to the series for almost 40 years since its first volume Dirty Pair no Daibouken (Dirty Pair's Great Adventures) in May 1980. Takachiho said Yasuhiko had already started working on it (probably), and added one day later, "I decided to write a new story because of Yasuhiko-san's strong request, 'We have had enough Joe (Crusher Joe), so would you write a new Dirty Pair story now?'"
ダーティペアシリーズの新作「ダーティペアの大跳躍」が年内に出版されることになった。早川書房ね。いま安彦良和さんがイラストを絶賛作画中(のはず)。

— 高千穂遙 (@takachihoharuka) 2018年9月4日
「ダーティペアの大跳躍」に関して、たくさんのコメントをありがとうございます。詳細が決まりましたら、またお知らせしますね。なお、今回は安彦さんからの「ジョウはもういいから、そろそろDPを書いてくれよ」という強力なリクエストに応えての執筆です。(^^;

— 高千穂遙 (@takachihoharuka) 2018年9月5日
"Dirty Pair" main novel series list:
1. "Dirty Pair no Daibouken" (Dirty Pair's Great Adventures) - 1980
2. "Dirty Pair no Daigyakuten" (Dirty Pair Strike Again) - 1985
3. "Dirty Pair no Dairansen" (Dirty Pair's Rough and Tumble) - 1987
4. "Dirty Pair no Daidassou" (Dirty Pair's Great Escape) - 1993
5. "Dirty Pair no Daifukkatsu" (Dirty Pair's Great Resurrection) - 2004
6. "Dirty Pair no Daiseifuku" (Dirty Pair's Great Conquest) - 2006
7. "Dirty Pair no Daiteikoku" (Dirty Pair's Great Empire) - 2007
Novel 1st and 7th volume covers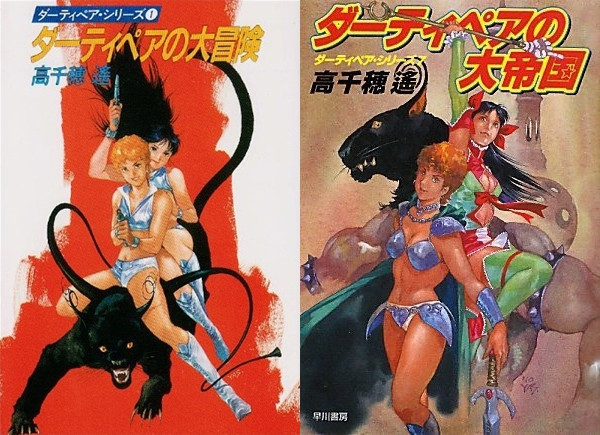 ---
Source: Haruka Takachiho Twitter via: NetLab