"Nagi no Asukuara" director Toshiya Shinohara works on a new fantasy story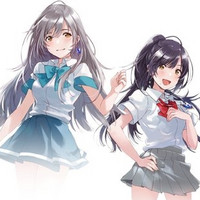 The official website for P.A. Works' upcoming new original TV anime Iroduku Sekai No Ashitakara/So Many Colors in The Future What a Wonderful World opens today, announcing its October 5 premiere on MBS and TBS. The anime will also premiere exclusively on Amazon Prime Video worldwide (excluding the Mainland China) before the TV on-air on the same day.
【『色づく世界の明日から』公式サイトオープン!】
2018年10月より放送開始のTVアニメ『色づく世界の明日から』公式サイトが本日オープンしました!各キャラクターの紹介ページも更新されていますので是非チェックしてください✨https://t.co/TgsmUMFVCm#iroduku

— アニメ『色づく世界の明日から』公式 (@iroduku_anime) 2018年9月10日
---
Iroduku Sekai No Ashitakara is directed by Toshiya Shinohara as his third directorial work at P.A. Works,
following Red Data Girl (2013) and Nagi no Asukara/Nagi-Asu: A Lull in the Sea (2013-2014)
The website introduces its story as below:
The story begins a few decades from now.
A little strange world that small magics still remain in daily life.
The protagonist Hitomi Tsukishiro is 17 years old. She is a descendant of a wizard family.
She lost her sense of color when she was little, and has grown up as a child with poor emotions.
Feeling sorry for her future, her grandmother Kohaku, who is a great witch, sends Hitomi to 2018
with magic.
Hitomi suddenly appears at an unknown place and is confused, then vivid colors jump into her view...
New Show Visual:
Iroduku Sekai No Asukara
so many colors in the future what a wonderful world (English Title TBD)

A Lull In The Sea's Toshiya Shinohara bring a fantasy story of a coloring world in October pic.twitter.com/dyUrlRPkWt

— P․A․WORKS English (@PAWORKS_eng) 2018年8月9日
2nd PV
Main voice cast:
Hitomi Tsukishiro: Kaori Ishihara (Tsubame Miyama in Schoolgirl Strikers)
Kohaku Tsukishiro: Kaede Hondo (Hikari Takanashi in Interviews with Monster Girls)
Yuito Aoi: Shoya Chiba (Hayato Akiyama in The [email protected] SideM)
Asagi Kazano: Kana Ichinose (Ichigo in DARLING in the FRANXX)
Kurumi Kawai: Nao Toyama (Rin Shima in Laid-Back Camp)
Sho Yamabuki: Seiji Maeda
Chigusa Fukazawa: Ayumu Murase (Shoyo Hinata in Haikyu!!)
---
Source: TV anime "Iroduku Sekai No Ashitakara" official Twitter
© Iroduku Sekai No Ashitakara Production Committee