Unlike Girls und Panzer, no foreign fighters will appear in the story, only Japanese-made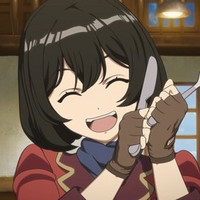 The official website and Twitter for Girls und Panzer director Tsutomu Mizushima's new original TV anime Kouya no Kotobuki Hikoutai (The Kotobuki Squadron in The Wilderness) open today with a teaser visual featuring its protagonist Kirie and a 30-second teaser PV. Michiko Yokote teams up again with Mizushima as series composition writer, following his 2014-2015 TV anime SHIROBAKO.
While its plot details are still unknown, Kouya no Kotobuki Hikoutai is introduced as "a real air battle action anime featuring a bishoujo pilot team." It is set to premiere in Japan in January 2019.
According to director Mizushima's tweets, it will be a hybrid anime produced in 3DCG and hand-drawings. And unlike Girls und Panzer that featured various types of tanks from all over the world, the airplanes to be appeared in the story are all Japanese-made, no foreign fighters, such as German Messerschmitt, will appear. Only fighter currently introduced on the site is Nakajima Ki-43
Hayabusa/Army Type 1 Fighter, which was used by the Imperial Japanese Army Air Force in World
War II.
Teaser visual with a tagline: "Air Battle is My Daily Life."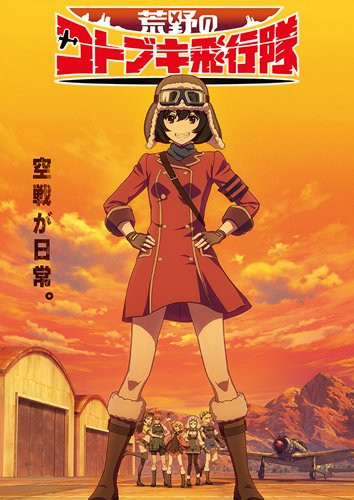 監督・水島努×シリーズ構成・横手美智子の黄金コンビが贈るオリジナルアニメ最新作『荒野のコトブキ飛行隊』の公式アカウントです!2019年1月よりTV放送開始!公式サイトもオープンしました→ https://t.co/9p86paBJ6T 推奨ハッシュタグは #コトブキ です!(宣伝O) pic.twitter.com/7OJzlMlU8L

— TVアニメ『荒野のコトブキ飛行隊』公式 (@kotobuki_PR) 2018年9月13日
Teaser PV
Main staff:
Director/Sound director: Tsutomu Mizushima
Series composition: Michiko Yokote (Squid Girl, Karakai Jozu no Takagi-san)
Main character original design: Hidari ([email protected])
Anime character design: Sho Sugai (Jushinki Pandora OP animation director)
Military supervisor: Shigeyuki Ninomiya (Kuromukuro)
Assistant director: Hiroyuki Kobe
3D director: Hisahi Egawa, Sora Hirota
Technical director: Keita Mizuhashi
Asset director: Kentaro Kigusuri
Drawing director: Yusaku Saotome
Chief animation director: Touko Nakamura
Animation director: Shota Ueno
Art director: Kazuo Kokura
Director of photography: Kentaro Kashiwagi, Takayuki Hatayama
Music: Shiro Hamaguchi (One Piece, Girls und Panzer)
Production: Digital Frontier (GANTZ:0)
Anime production: GEMBA (Pokémon the Movie: The Power of Us)
Drawing production: Wao World (Anime-Gataris)
Main voice cast:
Kirie: Sayumi Suzushiro (Akira Ohno in High Score Girl)
Ennma: Eri Yukimura
Kate: Sayaka Nakaya (ex-AKB48 member/Hana Kazuki in Chaos;Child)
Reona: Asami Seto (Eri Kumagai in Music Girl)
Zara: Hibiku Yamamura (Kirara Amanogawa/Cure Twinkle in Go! Princess PreCure)
Chika: Miyu Tomita (Yume Nijino in Aikatsu Stars!)
コトブキ飛行隊メンバーを演じるメインキャストの集合写真とコメントが到着!写真は上段左から山村響さん、瀬戸麻沙美さん、富田美憂さん、下段左から幸村恵理さん、鈴代紗弓さん、仲谷明香さんです!コメントは公式サイトのキャストページ にて公開中! #コトブキ(宣伝O) pic.twitter.com/AxNMGUCeHt

— TVアニメ『荒野のコトブキ飛行隊』公式 (@kotobuki_PR) 2018年9月13日
---
In addition, an air battle simulation RPG for iOS and Android Kouya no Kotobuki Hikoutai: Oozora
no Take Off Girls! (The Kotobuki Squadron in The Wilderness: Take Off Gilrs in The Big Sky!) is
scheduled to start its service in the winter of 2019.
早くもスマホゲーム化決定!『荒野のコトブキ飛行隊 大空のテイクオフガールズ!』が2019年冬配信予定です。只今、事前登録受付中!詳しくはゲーム公式サイトをチェック→ https://t.co/4C6ccVMoUx #コトブキ (宣伝O) pic.twitter.com/EiBZqrQxU2

— TVアニメ『荒野のコトブキ飛行隊』公式 (@kotobuki_PR) 2018年9月13日
---
Source: TV anime "Kouya no Kotobuki Hikoutai" official website / Twitter
©Kouya no Kotobuki Hikoutai Production Committee
©BANDAI NAMCO Entertainment Inc.