One-night only engagement on October 13th in select theaters across North America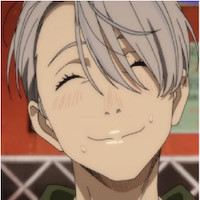 It is time to make history once again, as the smash hit and crossover phenomenon Yuri!!! on ICE will be screened in select theaters across North America in a one-night only marathon on October 13th. Tickets are available now and can be purchased through Fathom Events. Be sure to keep checking back as more theaters are being added every week!
The screening will feature bonus content exclusive to the event as well as an exclusive limited poster from Yuri!!! on ICE for attendees on a first come, first serve basis.
Summary:
Yuri Katsuki carried the hope of all Japan on his shoulders in the Figure Skating Grand Prix, but suffered a crushing defeat in the finals. He returned to his hometown in Kyushu and hid away in his family's home, half wanting to continue skating and half wanting to retire. That was when the five-time consecutive world champion, Victor Nikiforov, suddenly showed up with his teammate, Yuri Plisetsky, a young skater starting to surpass his seniors. And so the two Yuris and the Russian champion Viktor set out to compete in a Grand Prix like none the world has ever seen!