"Waka Okami wa Shogakusei!" fails to rank in top 10 in its opening weekend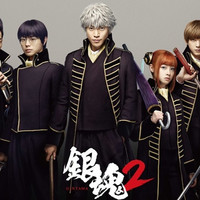 Even in its sixth weekend of release, Gintama 2: Okite wa Yaburu tame ni koso Aru (The Rule is surely there to be broken) still ranked 4th, one position up from the previous weekend. The live-action sequel has sold 2.6 million tickets in its domestic run, and its current total box office gross has reached an impressive 3.4 billion yen. The Yuichi Fukuda-directed series' first film stayed in the box office top 10 for seven weeks from July 15-16 to August 26-27, 2017. Considering its current position and momentum, the second film is expected to stay in the top 10 much longer.
By the way, Kanna Hashimoto, who has played the main heroine Kagura in the live-action film series, posted a photo of her as Kagura during the shooting on her official Twitter account last Friday.
おかっぱ神楽が日向ぼっこしてる時の写真です。
明日からまた三連休ですよね〜
銀魂2 観てない方、
ぜひ劇場へ。
もちろん、もう観たよって方も副音声とかもやってるのでぜひリピートお願いします。
#銀魂2掟は破るためにこそある pic.twitter.com/YuyMNjcXzD

— 橋本環奈 (@H_KANNA_0203) 2018年9月21日
This weekend's only new anime film, Waka Okami wa Shogakusei! based on Hiroko Reijo's children novel
was released in 247 theaters across Japan on September 21, but failed to rank in the box office top 10.
On the other hand, the Kitaro Kousaka (Nasu: Summer in Andalusia)-directed film has received positive
response from the audience, ranking second in Pia's first day satisfaction ranking with 92.3 rating.
---
Weekend box office in Japan (September 22-23, 2018)
(ticket sales basis)
1 (new). "Christopher Robin"
2 (new). "Cafe Funiculi Funicula"
3 (2). "The Meg"
4 (5). "Gintama 2: Okite wa Yaburu tame ni koso Aru"
5 (4). "Killing for Prosecution"
6 (3). "The Predator"
7 (8). "One Cut of the Dead"
8 (new). "Skyscraper"
9 (6). "HIBIKI"
10 (7). "Ant-Man and the Wasp"
"Waka Okami wa Shogakusei!" trailer
---
Source: Eiga.com
(C)Hideaki Sorachi/Shueisha
(C)2017 Movie "Gintama" Production Committee
©Hiroko Reijo, Asami, Kodansha/Waka Okami wa Shogakusei! Production Committee