Hayato Kawai (Kurosaki-kun no Iinari ni Nante Naranai)-directed film will open on December 21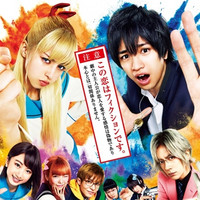 The official website for the upcoming live-action film adaptation of Naoshi Komi's love-comedy manga Nisekoi is updated with a new poster visual and posted a 90-second full trailer introducing its theme song "KawaE" performed by three-member Japanese rock band Yabai T-Shirt Yasan. The newly-written tune is their first film theme work, and its CD release schedule has not yet been decided.
The live-action film Nisekoi starring 24-year-old Kento Nakajima (boy idol group Sexy Zone member) as the male protagonist Raku Ichijo and 21-year-old Ayami Nakajo (Anonymous Noise) as the main heroine Chitoge Kirisaki is set to be released in Japan on December 21, 2018.
Full trailer
New poster visual with a tagline:
"Warning: This love is fiction. The love feelings held by the protagonists toward their lovers in the story
are false. They have nothing to do with their true feelings."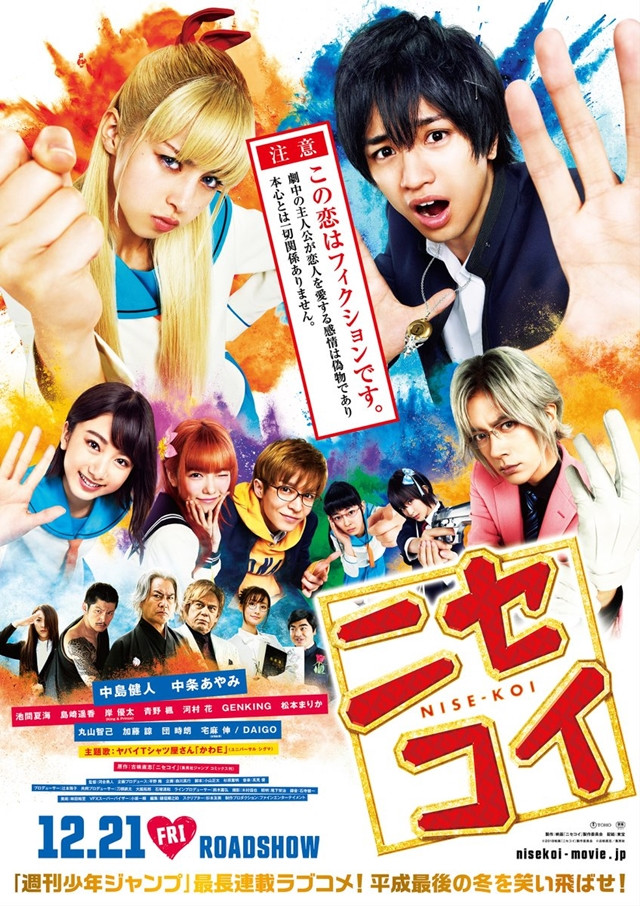 Main Cast:
Raku Ichijo: Kento Nakajima (24/boy idol group Sexy Zone member)
Chitoge Kirisaki: Ayami Nakajo (21/Nino Arisugawa in Anonymous Noise)
Kosaki Onodera: Natsumi Ikema (15/ex-member of dance vocoal unit Lollipop in Okinawa)
Claude: DAIGO (40/rock band BREAKERZ vocalist)
Shu Maiko: Yuta Kishi (22/boy idol group King & Prince member)
Marika Tachibana: Haruka Shimazaki (24/ex-AKB48 member)
Kyoko Nippara: Marika Matsumoto (33/Rikku in Final Fantasy X)
Seishiro Tsugumi: Kaede Aono (25/Motoko Kusanagi in Ghost in The Shell ARISE: GHOST is ALIVE)
Ruri Miyamoto: Hana Kawamura (17)
\主題歌決定/

映画の主題歌初担当#ヤバイTシャツ屋さん
書き下ろし楽曲「かわE」主題歌に大抜擢‼️

楽曲は #ヤバT のギター&ボーカル #こやまたくや が撮影現場に足を運び、完成した映画本編も観て制作!

映画にめっちゃええ感じに
馴染んでるゥゥゥ#ニセコイ #映画ニセコイ pic.twitter.com/wOxKfdRGUW

— 映画『ニセコイ』公式アカウント (@nisekoi_1221) 2018年10月1日
Source: "Nisekoi" live-action film official website / Twitter
© 2018 Movie "Nisekoi" Production Committee
© Naoshi Komi/Shueisha