La serie llegará el 12 de octubre a Crunchyroll.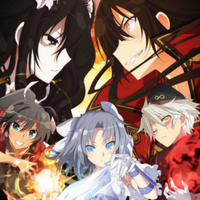 La cuenta oficial de Twitter del anime SENRAN KAGURA SHINOVI MASTER ha colgado un segundo video promocional en el que podemos escuchar el que será el opening de la serie, "Scarlet Master", de Sayaka Sasaki.
La serie llegará a Crunchyroll en la temporada de otoño y estreno está previsto para el 12 de octubre.
La serie será una coproducción de Crunchyroll y estará disponible para usuarios de todo el mundo a excepción de Asia.
El reparto de voces retomará sus roles desde los juegos:
Yumi Hara como Yumi
Hisako Kanemoto como Murakumo
Kaori Ishihara como Yozakura
Ayano Yamamoto como Shiki
Hiromi Igarashi como Minori
Hitomi Harada como Asuka
Asami Imai como Ikaruga
Yu Kobayashi como Katsuragi
Kaori Mizuhashi como Yagyuu
Yuka Iguchi como Hibari
Hiromi Hirata como Miyabi
Sayuri Yahagi como Murasaki
Chiwa Saito como Imu
Yōko Hikasa como Ryōbi
Mako como Ryōna
Eri Kitamura como Homura
Ai Kayano como Yomi
Ryoko Shiraishi como Hikage
Saori Goto como Mirai
Megumi Toyoguchi como Haruka
Yuki Matsuoka como Kagura
Yuko Kaida como Naraku
Minami Tsuda como Renka
Sora Tokui como Hanabi
Shiori Izawa como Kafuru
Kana Asumi como Fubuki
Riko Kohara como Gekkō
Akane Fujita como Senkō
Tetsuya Yanagisawa (High School DxD, Daimidaler: Prince vs. Penguin Empire) será el director del anime bajo TNK (Doreiku The Animation, High School DxD BorN). Yukinori Kitajima (BBK/BRNK, Brynhildr in the Darkness), quien pusiera la historia a la primera temporada, se encargará nuevamente de los guiones y la supervisión de los mismos. Junji Goto (School Days, High School DxD BorN) diseña los personajes y es el director jefe de animación junto a Tsutomu Miyazawa (Samurai Bride, Soul Buster). El productor de la franquicia, Kenichirō Takaki, regresa como "productor de pechotes" y Keisuke Kawai (High School DxD BorN, Daimidaler: Prince vs. Penguin Empire) es el productor de animación.
Otros miembros del equipo serán:
Diseño de fondos: Yasuhiro Moriki, Yutaka Miya
Arte: Junko Nagasawa (Production ai)
Dirección de arte: Yoshimi Umino (Production ai)
Diseño de color: Aiko Matsuyama (Typhoon Graphics)
Dirección de fotografía: Hiroyuki Chiba (Anime Film)
Edición: Takashi Sakurai (Typhoon Graphics)
Dirección de sonido: Hiroto Morishita
Música: Noisycroak
Producción musical: Lantis
Mia REGINA se encarga de poner el ending con el tema "Junsei Erotic".
Fuente: ANN