Shinsuke Sato (GANTS, Bleach) serves as director for an April 19, 2019 release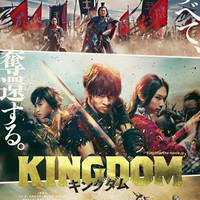 A press conference for the upcoming live-action film adaptation of Yasuhisa Hara's historical adventure manga Kingdom was held in Tokyo today on October 9, announcing its director Shinsuke Sato and nine main cast members. A teaser poster visual featuring 24-year-old Kento Yamazaki as the protagonist Ri Shin in the center is also revealed. Yamazaki played the character in a special PV for the manga's 10th anniversary in 2016, and is set to reprise it for a real feature film.
The live-action film Kingdom is scheduled to be released in Japan on April 19, 2019.
Teaser poster visual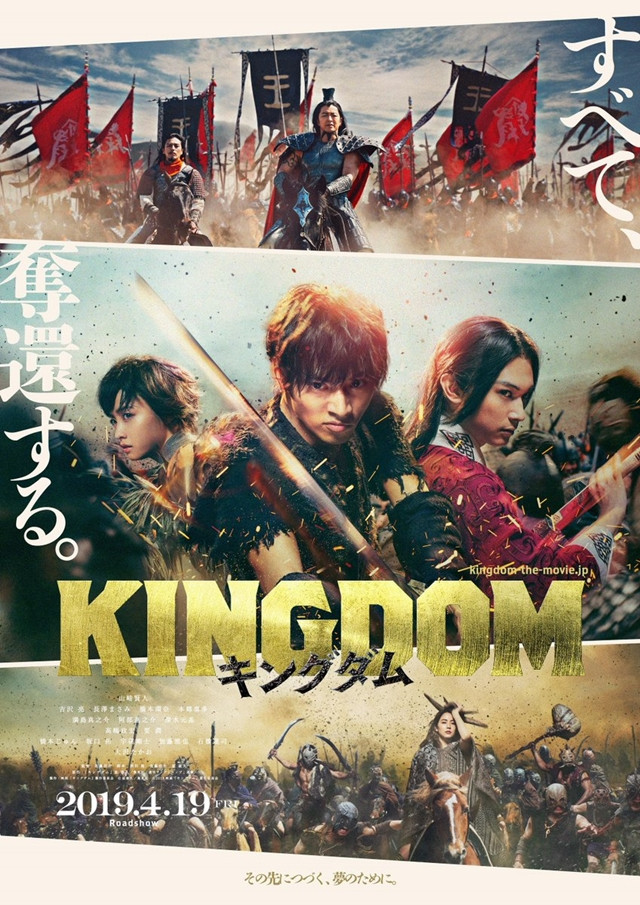 映画『キングダム』公式アカウントを開設しました。
2019年4月19日(金)ロードショー!
映画公式サイトはこちら⇒https://t.co/s0MDv3lNLB#キングダム #山﨑賢人 #吉沢亮 #長澤まさみ #橋本環奈 #本郷奏多 #満島真之介 #髙嶋政宏 #要潤 #大沢たかお pic.twitter.com/N5pxVuDh89

— 映画『キングダム』公式アカウント (@kingdomthemovie) 2018年10月9日
---
Yamazaki has been playing lead roles in so many live-action films based on popular manga series,
including: Kyo, Koi wo Hajimemasu (2012), L DK (2014), Heroine Shikkaku (2015), Orange (2015),
Wolf Girl and Black Prince (2016), Your Lie in April (2016), One Week Friends (2017), JoJo's Bizarre
Adventure: Diamond Is Unbreakable Chapter I (2017), Psychic Kusuo: The Disastrous Life of Saiki K.
(2017), and the upcoming Wotakoi: Love is Hard for Otaku (2019).
Meanwhile, Sato is also a veteran director of live-action adaptations of Japanese manga. He directed
Shurayuki-hime (2001), GANTZ (2011), GANTZ PEFECT ANSWER (2011), I Am A Hero (2016), Death
Note: Light Up the New World (2016), Inuyashiki (2018), and this year's box-office flop Bleach.
Footage from the film
Behind-the-scenes
Cast:
Ri Shin: Kento Yamazaki (Kusuo Saiki in The Disastrous Life of Saiki K.)
Ei Sei/Hyou: Ryo Yosizawa (Ryusei Sakuta / Kamen Rider Meteor in Kamen Rider Fourze)
Yo Tanwa: Masami Nagasawa (Tae Shimura in Gintama)
Karyo Ten: Kanna Hashimoto (Kagura in Gintama)
Seikyo: Kanata Hongou (Ryoma Echizen in The Prince of Tennis)
Heki: Shinnosuke Mitsushima (Morio in Napping Princess)
Shoheikun: Masahiro Takashima (Gunhed, Godzilla vs. Mechagodzilla II)
Tou: Jun Kaname (Makoto Hikawa/Kamen Rider G3 in Kamen Rider Agito)
Ouki: Takao Ohsawa (The Wolfman in Wolf Children)
---
Source: Live-action film "Kingdom" official website / Twitter
(c) Yasuhisa Hara/Shueihsa (c)2019 Movie "Kingdom" Production Committee